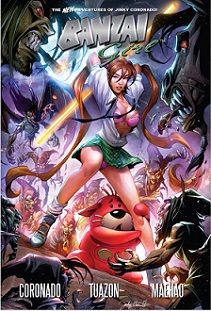 Title: Banzai Girl Volume 2: Fifty Shades of Prey
Publisher: Alpha Comics/Amazing Entertainment, a division of Glass House Graphics
Creator/Writer/Co-Artist: Jinky Coronado
Co-Artist: Larry Tuazon
Letters: Matt Thompson & Kathryn S. Renta
Colorists: Michael Kelleher & Katrina Mae Hao
Cover: Jinky Coronado & Mae Hao
Variant Covers: Jinky Coronado & Michael Kelleher
Price: $ 35.00 US
Rating: 4 out of 5 stars
Website: www.glasshousegraphics.com, www.ghgstore.com
Comments: "Chapter One: Captured by the Kapre'"
Jinky is shown with Michelle in their band and they are both is very cute outfits. Then we see Jinky is back in school and as we first see her she is almost falling out of her clothing. Her top is open with a nice boob window and her pink thongs are clearly showing.
Next, we get to see a couple of pin-up style drawings of Jinky in various outfits.
Now in the present Jinky has returned home. Fredrick is shown as a lovesick boy in love with Jinky.
In class, Jinky has an interesting Biology teacher Mister Richvee, one who likes looking up school girls short skirts. He is drawn generously. The girls though are drawn so cutely and sensual. Their thongs keep peeking out. The comic does show Jinky's underwear a lot.
It is nice to see Fredrick over his crush on Jinky and moving on to Kat her younger sister. These two work well together. You can see the chemistry between them. Kat looks so cute. They are looking for the Kapre (a type of bigfoot that smokes cigars.)
In-between chapters there is a gorgeous pin-up. Kat has an awesome looking gun in it. Jinky and Michelle have cute pink panties.
"Chapter Two: The Duwende Horror!"
Michelle looks so good in her green lingerie. More of Jinky in her pink lingerie too. Jinky has a stuffed toy Wilfred that is alive. He is a fun touch to the story.
While in the woods looking for Katie J, Jinky is attacked by the Duwende and they, of course, rip off all her clothes except her underwear. Michelle gets stripped down. The Karpe looks kind of cute hanging out with Katie J and her friend. The way the wild mythical beasts of the forest are taken care of is something different and it works out.
"Chapter Three: The Terror of… Tikbalang!"
A man horse creature abducts Michelle. Of course, the art does deliver peeks at Michelle and Jinky's pink panties. The Tikbalang a mythological creature is illustrated to bring him to life. The story is fun and the creature in the woods is no threat.
These mythic creatures are from actual Philippine mythology.
"Chapter Four"
Here the girls get a tour of their father's work. He does make lots of interesting items. We also get to see the Overseer. He is a big man with his own agenda.
"Chapter Five: Aye Robot"
Jinky gets to dream about her other selves again. So she is shown in bed in her pink underwear. She is drawn with a very sexy body. In her dreams, Freedom Fighter Jink looks like a fighter. She holds a futuristically designed gun. The liquid battle sit Jink wears is another nice design and she is gorgeously drawn in what remains of it after her brief battle.
Then back in the real world a robot attacks and Katie J's clothing gets roughed up enough to show off her cute white panties. The city is under attack and the three girls Jinky, Michelle and Katie J fight back.
A major part of the storyline seems to be that Jinky and Michelle and sometimes Katie J show off their cute sexy panties.
"Chapter Six: Banzai Girl 2.0!"
Jinky gets a battle suit to fight the giant robot. The battle does go on providing lots of all-out action. The girls put up a fight and a Shadow Whisper makes the scene. Lots of Jinky's pink underwear is out to be seen. The tentacles of the Shadow Whisper grab Michelle and Jinky. It takes all three Banzai Girls to win the day.
"Chapter Seven: Fifty-One Shade of Prey"
A beautiful girl dressed all in pink arms herself as she plans revenge on the Coronado's. Pinkie does have a major hate-on for Jinky and her family.
We are treated to a bare butt drawing of Jinky. She does have a nice naked bottom.
Jinky's baby sister Jasmine is a bundle of fun. So its Jinky, Kat and Jasmine vs Pinkie. Pinkie's thong is show off a lot almost as much as Jinky's. Ok, even Jasmine's underwear gets shown well she is a female Coronado after all. The fight is low key so Jinky and her sisters barely actually fight Pinkie. They do talk a lot.
The pin-up page with Jinky and Jasmine on flying discs is drawn very coolly.
The story is fun and filled with cute characters who have fun. More depth to the overall story and characters would be good to see. The three Banzai Girls has two of them the Future Freedom Fighter and Princess ones not being fully explained as to how they figure into the storyline. Thongs do figure in a lot and they do make a fun and visually pleasing part of the story.
The back of the book is filled with wonderful pin-ups. The Revenge of the Snakeman! one really stands out as it has Jinky getting serious and showing she does have a hard side and it is not all fun and games.
"Katie's World" This strip features Katie Jay a young child and her adventures with her stuffed animals that come to life. Judith Jay writes and draws this feature. Katie Jay does have to play with her living stuffed toys.
Overall this is a fun enjoyable comic that does not get to serious. The main character Jinky is many things in it.; a sister, daughter, friend and a warrior.
About Author