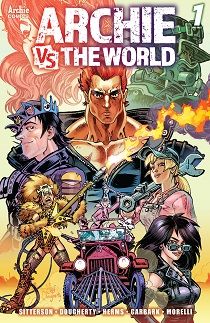 Title: Archie vs The World # 1
Publisher: Archie Comics
Story by: Aubrey Sitterson
Line Art by: Jed Dougherty
Coloring by: Matt Herms, Doug Garbark
Lettering by: Jack Morelli
Main Cover: Jed Dougherty
Variant Cover: Aaron Lopresti
Price: $ 3.99 US
Rating: 2 out of 5 stars
Website: www.archiecomics.com
Comments: Archie has bulked up after civilization fell. He, Jughead, and Hotdog are in a post-apocalyptic world. Archie here is a fighter and a good one. Reggie when he appears there is no doubt he is pure evil. Archie does have power here but it is not explained fully what it is or what is going on in this world.
The glimpses of this world are weird. So many changes have happened. The character's personalities are all the same just their roles have changed slightly yet the rpartsdo fit each one. Cheryl the Queen of the Wastes is a buxom beauty.
After a battle, Archie must choose between Veronica, Betty, and Cheryl: wealth, happiness, or power.
The story there is little to it. It does not have any point to it. Life goes on as before. Archie is a sad pathetic hero. He is not used fully here as are all characters none of them are gotten into to show the changes that have happened and how they are affected other than short glimpses.
There are some great visuals but more than that is needed.
About Author