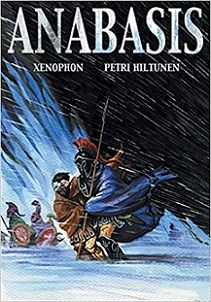 Title: Anabasis (GN)
Publisher: Markosa Enterprises Ltd
Written & Illustrated by: Petri Hiltunen
Adapted from the book by: Xenophon
Price: $ 19.99 US
Rating: 4 out of 5 stars
Website: www.markosa.com
Comments: This is a one hundred and thirty-seven page black and white graphic novel. Two brothers are going to war against each other and Lycius and Xenophon are two men involved in this war. One a General the other his writer friend.
The armor is illustrated beautifully, the detail stands out. The detail as the armies march on each other stands out. It is Persians vs Greeks and the Greeks are outnumbered. One King triumphs while the other brother does not fair so well.
Now the Greeks after the war just want to go home and the Persian King just wants them all dead. He is playing a game with them first to weaken them. Xenophon is left no choice he takes command of the Proxenos Regiment.
Here we are shown that skill and heart are a match for overwhelming numbers. The story brings across the hardships of fighting and being in enemy territory. The Greek soldiers are drawn as you would expect them to be a proud hard-fighting army of men.
Xenophon and Cheirisophus lead the Greeks against all odds and they just keep going and going.
The language uses chow and guys words that seem out of place for Greek soldiers. It only happens once for each word. There are also several spelling mistakes so a proofreader was needed.
These solders and their leader deserved every inch they took on their way home. You will feel their pain and hardship through both the storytelling and the illustrations. Both work well together to deliver a book your sure to find intense. At a hundred and thirty-seven pages the book does not drag on but holds your interest.
The back of the back is filled with many pin-ups and of other characters not from this book as well. They are all beautifully rendered. You will not want to miss seeing them.
About Author