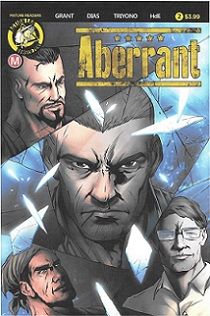 Title: Aberrant # 2
Publisher: Action Lab Comics
Writer: Rylend Grant
Artist: Davi Leon Dias
Colorist: Iwan Joko Triyono
Letterer: HdE
Price: $ 3.99 US
Rating: 4 out of 5 stars
Website: www.actionlabcomics.com , www.halfevilcomics.com , www.risingspiritfilms.com
Comments: The Major we see remembering his team. He is shown showing respect for them.
Garret outranks the Major and he also has his respect. Both Garret and David are good men. They both have served their county well. David has made up his mind he is out for revenge. So what does Garret have to say to him about it? A fight is coming and the suspense leading to it is building.
Major David from the results he leaves in his wake is an Aberrant a person with powers. In this comic though so far he is not actually shown using them. The way it is done makes you want to see him do so even more.
Aberrants are becoming more and more plentiful. They just keep popping up. So who will keep them inline?
The art is good but there is not that much happening in this issue to show off the artistic side of Davi Leon Dias.
Major David Colbrenner needs to decide whose side he is on and what his next move is.
About Author