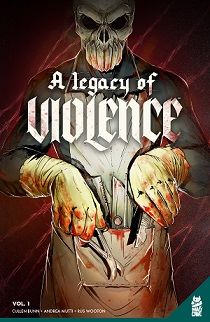 Title: A Legacy of Violence Vol. 1 (TP)
Publisher: Mad Cave
Writer: Cullen Bunn
Artist: Andrea Mum
Letterer: Rus Wooton
Price: $ 17.99 US
Rating: 3 out of 5 stars
Website: www.madcavestudios.com
Comments: This book collects issues one through four of the series.
A man in a mask holds another man prisoner. He has been torturing him and plans to be more.
A tortured man finds himself in a hospital now and with Doctor Shaw.
Now something is going on with 731? We see a man with a secret and then we skip to a hospital.
The story skips around a lot without fully explaining things.
The comic is about a mystery man who tortures others. He thinks what he is doing is right. What are his reasons though? Why does he torture and then kill people?
We do see a focus on doctors. Are all the killer's victims doctors?
There are so many mysteries in this book. We do need some answers to appreciate what is going on.
The art is dark which is used along with the settings to set the atmosphere of the book. You will get a feel if this is a horror movie.
The torturer/killer looks as if he could be a menacing character only that does not come across very much here. The victims are shown to be afraid and their behavior suggests 731 has some serious importance. Your curiosity will be peaked.
A group of doctors has one of the torturer/killer's victims show up at their hospital. This killer is a serial killer and he has been busy. The Sheriff is investigating the case but so far no leads.
When the killer next strikes he leaves a gruesome calling card. The scene is a gory mess that might be too much for the faint of heart.
The Sheriff does not like the doctors. The Sheriff can not catch the killer and the doctors can not help his victims.
One of the doctors Nick Shaw starts to investigate the murders on his own. He had a weird childhood where something was wrong with him and now in the present something still is.
Now Nick gets to meet the killer face to face. These two men do get into a scuffle in which things do get hard on both. Both get a beating from the other.
Dr. Andrew Smith is missing and two Doctors are looking for him Dr. Cayce Williams and Nick and they have had no luck.
Nick's childhood in part is shown. Yes, he did have something definitely wrong with him.
The killer who wears a skull mask is mysterious. We know very little about him other than he is an insane killer. Things are starting to get interesting as the characters are all interacting and you do not know what will happen next.
About Author