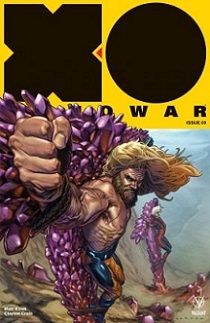 Title: X-O Manowar # 9
Publisher: Valiant Comics
Writer: Matt Kindt
Artist: Clayton Crain, Khari Evans
Letterer: Dave Sharpe
Cover by: Lewis Larosa with Diego Rodriguez
Variant Covers by: Adam Pollina with Brian Reber, Clayton Crain, Juan Jose Ryp with Brian Reber, Darick Robertson with Diego Rodriguez
Price: $ 3.99 US
Rating: 3 out of 5 stars
Website: www.valiantuniverse.com
Comments: With Aric's victory and his becoming the new ruler of the planet there are also new differences. The major factions are fighting among themselves each wanting to survive.
Azure, Cadmium and Burnt all are not getting along and are killing each other.
Aric must now find a way to rule this planet and to bring peace to it. Aric is a warrior and a soldier but to rule a planet and its people you need to be so much more. Aric finds himself lacking. The way this story is written Aric is shown realizing his flaws.
The art is done to dark making it hard to fully see all the detail in the art.
Aric has become the most hated man on the planet this was not what he wanted but it is what he has. In the coming issues, we will get to see just how well Aric the warrior can adjust to his new role as peacemaker.
About Author