First Comics News: How was Rat House Comics started?
Tim Tyler: Rat House was started in 2013, as an experiment to see if I could produce quality color comics using Home printing equipment. The experiment leads to me using a full printer. Before Rat House, I had various companies going back to 1991. Before that, I started in Independent Comics in 1986, after getting out of the Kubert School.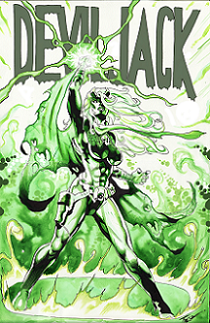 1st: Who is Devil Jack and why does she exist and what difficulties does Devil Jack encounter?
Tim: Devil Jack tells the tale of Paula DeMaine, just the latest in a long line of generational "protectors". Her father, on his death bed, gives Paula the "Jack", a mystical gem, that has within it, an imprisoned Demon King. Paula's job is to wear the Jack on her right hand, basically watching over it, so the Demon stays imprisoned. She is constantly attacked by forces, trying to free the Demon. While possessing the Jack, the wearer can siphon and use the Demons power for her own. Her weapons are flight, supernatural attacks, and fighting, and an ancient weapon called the Lazarus Hatch. One more bad thing, is while wearing the Jack, she is also enemies with the Heavenly forces of good, who see her as nothing more than the Demon King himself.
Devil Jack was first introduced in the early 1990s. With her, I was trying to tap into the Bad Girl genre that was very prevalent at that time. The first issue did very well….but soon after that, was the collapse of the Independent Market. Instead of struggling along, I decided to tell the story at another time, which brings me to my current Kickstarter campaign.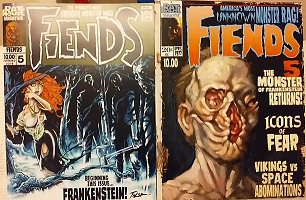 1st: What exactly is "Fiends" all about?
Tim: Fiends is my love letter to monster magazines and comics of my youth. It is what I would love to have seen on the stands as a kid. A cross between Old Warren Creepy's, old Marvel monster comics and some EC threw in, all done in a retro package with fake ads.
1st: Why should someone back "Fiends # 5" on Kickstarter?
Tim: Fiends 5 is complete and ready for order. Fiends 6 will be the next issue, but I have a few to do first before that. If you like monster vs Monster type books, creepy, old Marvel creature mags and just fun comics, then you might like Fiends.
1st: What type of comic is "Blood Reign"?
Tim: Blood Reign is my oldest title, first published in 1991, it follows a vampire character who lives in a dystopian blade runner type world. He is searching for the being that made him what he is while dealing with his own demons. Since he is a weaker type of vampire, he uses various weapons to make up for his abilities.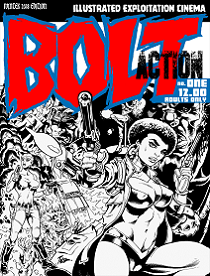 1st: Why will comic fans love "Bolt Action"?
Tim: Bolt Action is an illustrated Grindhouse movie experience. The Bolt Theater is a haunted theater, that materializes into reality every so often, and shows Grindhouse Movies that have never been seen or heard of before….action, horror, kung fu, sleaze…..The first issue came with an actual Ticket to the Bolt, as well as illustrated folder representing Film Trailers for upcoming releases. There is nothing out there quite like Bolt Action.
1st: What do you try to incorporate into your art to make it pop?
Tim: I just do what I would like to see if I were looking for something cool on the stands. Of course, I have many influences. People I like to look at or have worked with over the years. Tim Vigil, Jack Kirby, Berni Wrightson, Wally Wood, Ploog, Perez…..the list goes on and on. I just love comics.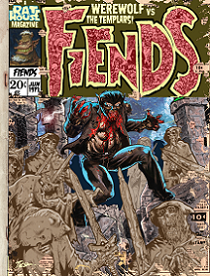 1st: What elements do your stories have to make them interesting?
Tim: My comics are produced by myself and have no Editors or rules to stop me from doing anything I feel like doing. They are what I would think of as truly Independent, but with pro standards. I have been drawing comics for almost 40 years. I've worked for many Independent companies such as First Comics, Comico, Caliber, London Night Studios, Rebel, Avatar, and my own Publishing ventures, Fathom Press, Doom Theater and now, Rat House.
1st: Besides yourself who helps create the Rat House Comics comics?
Tim: I have a few Pro friends who contribute, now and then, Tim Vigil, Steven Butler, Timothy Truman has done some work for me, Neil Vokes, David Zuzelo, as well as many others…but for the most part, I draw and write everything myself.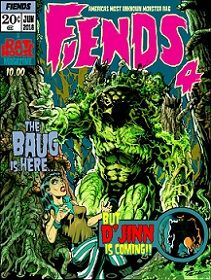 1st: Are the comics from Rat House Comic more mature if so why?
Tim: I'd say most of my comics are mature….not so much x-rated. I don't really delve into that. I may have a bit of nudity, but no more than an average R rated film. My comics are not made for kids. I create characters and situations that aren't always happy. My hero characters don't usually have an easy time at it. My stories tend to have a violent aspect to it, simply because that is how I choose to tell my stories. Rough and dangerous.
1st: What were some of the best things you learned from the Joe Kubert School?
Tim: The school, when I went, was just a place of imagination and creativity. the teachers were not so much the best aspect of the School…..but the students you hung out with and drew with every day was what fortified my creativity. To me, that is the best thing about the school. I can't speak for the current state of the school.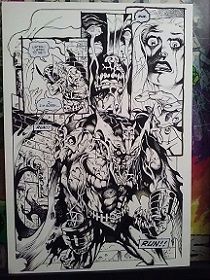 1st: How do you feel independent comics compare to mainstream comics?
Tim: Independent comics is a tough subject. I have a love/hate relationship with them. When they are created by people who know what they are doing, they are incredible……but if they are created by someone who hasn't paid their dues…..who haven't learned the basics of art, storytelling, and illustration….then they can actually hurt the Independent Industry. Stores see that stuff and decide that Indies are amateurish
Dreck that they can't sell. Having said that, I feel Marvel produces some of the worst dreck in comics. They are nowhere near the house of talent and ideas that they once were. They are a company of re-boots, and 30 different covers for a new #1. It's hurting the shops and the entire Industry. Good Independents can fill the void if they are done right.
1st: What other independent comics would you recommend besides Rat House Comics?
Tim: Truthfully, I do not buy too much. Not much of the current stuff interests me. There are a lot of cool Kickstarter books out there….but often, they have great digital covers….but poorly executed interior art. I try to create a higher standard for the whole package.
1st: Any words for the fans of your work?
Tim: Tales of my demise at the hands of a rabid weasel are purely hearsay.
About Author