First Comics News: How has being an actress changed your life?
Sher Shearey: Becoming an actress has really helped me gain more confidence within myself to step out in front of a crowd of people and not care what anyone thinks of you. I was self-conscious about myself for a long time when I was in Junior High. When I stepped out on my first set, I felt something within me that couldn't be explained and the confidence just grew naturally. I started as an extra and acting has made me step outside of the box and made me realize that I was able to accomplish so much more and that I had talent and potential that I never thought I ever had in my life. It's also directed me to work on the Production side of things within projects. Also, acting helps with any personal issues you may be going through. I battled depression very hard back in 2009 and I wasn't fully into acting until a few years after that. Acting takes everything that is going on in your life and acts like the best stress reliever that you could ever imagine. You're always on the go, always staying busy and the people that you meet within the industry and seeing how they also have the same similarities as you and have gone through the same things as you….you create this bond with certain ones that are irreplaceable.

1st: What are the main differences and similarities between acting and modeling?
Sher: The similarities are that you're in front of a camera whether you're acting or modeling. Also, with modeling, you do have to create a sense of emotion within the pictures that you are taking. Pictures speak a million words. The differences are that with modeling there aren't any lines to memorize when taking pictures, unlike acting you can have four lines to memorize or four hundred.
1st: What made you first decide to try acting?
Sher: One thing I have learned throughout my life is to never say never. I never wanted to be an actor in my life. I saw a casting at Full Sail University for a film that they were doing. I portrayed one of the extras within the project. The rest is history. As I explained earlier, the feeling of stepping on set couldn't be explained. It's like I just knew that this is where I was meant to be.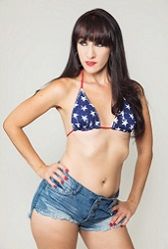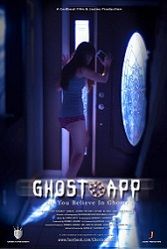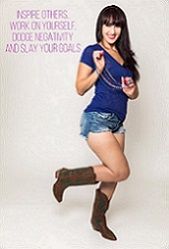 1st: What was your role in "Ghost App"?
Sher: I played "Sher", lol. Ironically this is also my name. She receives a certain text message from someone that she has no idea who it is, but somehow they have her number. They offer her a chance to download an app that will let her see what can't be seen with her own eyes, which is the "other" side. The app, however, does come with a warning. This short film has been in twelve film festivals and has won four awards (Best Editing, Best Florida Short, Best Horror Short, 2nd Place Audience Choice Winner).
1st: In "Final Destination 4: Death Trip 3D" what was your character's part?
Sher: I portrayed an extra in the coffee shop scene that is at the end of the movie. That's it, lol..but it was my first Hollywood production and it was such an amazing feeling seeing yourself on the big screen that was nationwide.
1st: In "Walkerz" you have a starring role do you prefer being the lead?
Sher: You come to a point in your career where you see your worth as an actor and what you don't want to portray anymore. You also see the potential that you have and how you have grown as an actor as well. I'm refraining from doing any extra roles that limits me from showing my full potential as an actor. There's a time when you start off in Kindergarten, with acting and then you move onto your Doctorate. Everything else is skipped in between. You see your potential fast. Walkerz is one project where I am proud to say that it's going to show a lot of aspects with acting. Every character that "Sarah" comes in contact with has different emotional aspects. Being the lead is not only an honor but also shows your potential as an actor and the faith that others have in you to put you as the lead in their project.
1st: Why would someone enjoy watching you in "Spookerbillies"?
Sher: It's one of your slapstick comedies of such talented actors that I have worked with and we all portray a Southern accent which is pretty hilarious to watch, lol.
1st: Which acting role have you had the most fun doing?
Sher: I portrayed "Princess" in Unlawful Justice that premiered back in 2015, which was a feature film. She was a bad ass that was part of a mob gang. Another role is one that I am currently working on is "Roseboro" in the web series, Beyond Scope. She portrays a seductive bad ass that doesn't care about any rules and everything is pretty much the way she says or no way at all. Very mysterious and unpredictable too. Things that you can't get away with in the real life…this is where acting comes into play and I enjoy these roles, lol.
1st: Have you had any strange or weird experiences while acting or modeling?
Sher: You do need to be aware within this industry. There was a modeling gig that I was offered back in 2012 in Miami, Florida. I checked everything out from head to toe, left and right. Long story short it was part of a human trafficking ring. If I would have gone down there, well…..I wouldn't be doing this interview right now. That was more along the lines of a scary encounter. Another one that was probably along the lines of being scared for my life was when I was filming a robbery scene and the production company didn't get the permits needed to film at the location we were at or let the local police station know about the filming. We ended up having the SWAT team, police, helicopters and lasers all on us because they thought we were actually robbing a location. The manager of the location knew about this, but the police did not. We had fake guns and all, but it looked real as can be with the robbery scene.
1st: What do you do to improve your acting ability?
Sher: Honestly, I've never taken any acting classes. With working two jobs and being in school, it's a bit hectic; however, practice makes perfect. With each project, I have seen myself increase as an actor. I also use a method acting approach at times depending what role I'm portraying. I also work with my co-stars as well and we critique each other and help each other out when rehearsing lines. The support is really amazing and how natural aspects turn out makes the scenes come out so much better.
1st: What are you currently working on?
Sher: Currently I'm working on a web series called Beyond Scope, which can be found on Facebook. I play Roseboro and I am also the Associate Producer. I also own my own production company called Sophia Lynn Productions so with that a lot of projects are in the works.
1st: How is your Bachelor's degree in Criminal Justice coming along and what do you hope to get out of it?
Sher: It's coming, lol. It is very challenging, but the motto that I live by is, challenge your limits, don't limit your challenges. The aspects that interest me the most, with the degree are the forensic psychology or just forensics in general. Acting will always be my number one career; however, the criminal justice field has always had my interest.
1st: Who has encouraged you the most in your career?
Sher: My mom has been my biggest supporter. She always told me ever since I was younger to always try everything once. If you don't like it, don't do it. I played practically almost every sport out there. Some I enjoyed and others I didn't. With acting, she has been the most supportive.
1st: What would you like to say to those who have enjoyed watching you perform?
Sher: All of your support towards me with my career, I can't thank you enough. From the bottom of my heart, I love each and every one of you. Do not stop at your dreams. You WILL achieve them and meet such AMAZING people along the way.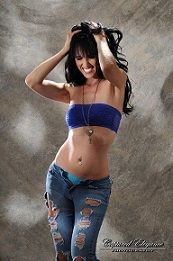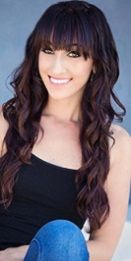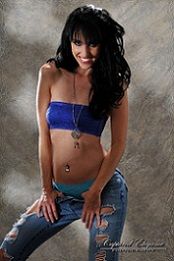 Website: www.shershearey.com
About Author