Fist Comics News: At what age did you start drawing?

Sam Lotfi: As early as I could hold a pencil or crayon, probably around 2 years old, I never stopped drawing and here we are today.

1st: How does drawing bring enjoyment into your life?

Sam: I'm a storyteller at heart and I love entertaining family and friends with funny or scary or adventure stories; drawing is the way I express those stories. We all know life can be difficult and chaotic at times, but drawing is the gateway to another world where I get to meet intriguing characters, go on adventures with them and tell theirstories.

1st: When drawing Mosely's character did it take a few tries to get his look just right?
Sam: Yes, there was a good amount of time spent on getting his design nailed down. I worked closely with Rob and we both had this image in our heads of not only what Mosely looked like, but we wanted his appearance to immediately exude his grumpy "fed up with tech takeover bullshit" attitude. We started with Denzel Washington's personality and look as inspiration and kept pushing it. You can see a little bit of Denzel in one of the earliest character designs, but we moved away from that and I'm very happy with where we ended up.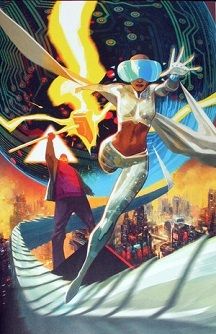 1st: With Ruby you combine technology in her look, how do you accomplish this?

Sam: So much of character design comes from who the character is and I do my best to convey that through visual symbolism whenever I can. In Ruby's case, she's someone who not only has a talent for it, but loves working with tech and sees the potential for how it could make the world even better; suffice to say she's obsessed or fully committed to it. How do we show that? We've all heard of and joke about how in the future we'll just have our phones surgically attached to our bodies etc. In Ruby's case, that's how she shows her commitment to tech, hence the tech she wears on her forehead and face and how she's always in her VR suit constantly plugged in so she can monitor the city from the pyramid. Much like the streamlined tech she's obsessed with, Ruby has even streamlined her appearance by shaving her head so that even hair is no longer something she has to bother with.

1st: This story takes place in the future how do you show this in the background art?

Sam: It may not be apparent in my own work, but I drew a lot of inspiration from two of my favorite cartoonists: Katsuhiro Otomo's magnum opus manga AKIRA and Jack Kirby's body of work at Marvel and DC. Both of those giants made the biggest impression on me as a young artist, not only in their storytelling, but also with how they approached establishing a believable sci-fi setting. My approach was to show the setting through not just the technology, but the architecture, fashion, vehicles, etc. and just like our own world there are still remnants of older familiar things. Hopefully, it helps engage readers in Mosely's world and story.

1st: Besides Mosely and Ruby who are some other characters you get to draw?

Sam: Gloria is also a fun character to draw, she's Mosely's ex-wife and Ruby's mom and has a strong personality. Gloria is a drinker and doesn't mince words, she'll say what she's thinking and that's what makes her fun to draw. I always look for opportunities to show who the character is not only through their design and visual symbolism, but also those engaging acting moments and she definitely provides plenty of opportunities. Last, but not least the Tech gods, I spent quite a bit of time designing and getting to know who they are before starting the series, I had a blast pushing myself creatively and let's face it, the bad guys are always the most fun to draw!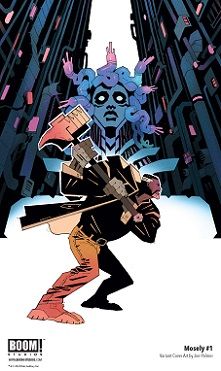 1st: Can you describe the hammer what it looks like and does?

Sam: Mosely's hammer is perhaps the most magical or mystical part of the series, it's the analog tool given to him by The FORM to use against the digital tech gods. I designed the hammer to look like a giant fist on the front side and a pick axe on the back to help poke holes and tear through the tech when a smashing strike just won't do. The hammer is imbued with power that surges through it and Mosely. When Mosely doesn't need it, it transforms and disguises itself as a walking cane.

1st: You drew Dr. Fate and Harley Quinn for DC how was that experience?

Sam: I had an absolute blast working with those characters and their creative teams. I met my DC editor while working on those stories and not too long ago we wrapped a graphic novel that we're very proud of called YOUNG ALFRED: PAIN IN THE BUTLER written by author Michael Northrop which will be coming in August 2023.

1st: You worked on "Last Stop on the Red Line" with Paul Maybury how did you two get together?

Sam: Paul and I ran into each other regularly at various comic conventions and kept in touch between cons, so when he had a story he needed an artist for, he reached out and it sounded like a fun monster story, so we took a crack at it.

1st: What can you tell us about your original comic book?

Sam: I'm a huge fan of film noir, especially the films from the 1940's. NOIR STORY has been bouncing around in my head for years, so I've been chipping away at it while simultaneously developing other original stories between regular comic work and family life. I don't want to say much at this time since it's still in development, but I thought I'd share a silent excerpt from the the story for now which you can see online at samlotfi.com

1st: If you could illustrate any comic book that you have not which one would it be and why?

Sam: To be honest, there are a lot of great existing properties and characters I'd love to work on, TMNT for example and I'd be more than happy to work on them if asked and if I'm available. However, I'm not getting any younger and there are stories that have been brewing in my head and heart for years, clawing to get out. Ideally, I'd love to write and illustrate original comic books and graphic novels.

1st: Do you think A.I.'s could one day take over?

Sam: AI is a tool and like any digital tool it has its merits and flaws. The real danger of AI is that it has the potential to change how we view our culture and society to the point that some might ask "why does it matter if it's real or not?" and therefore cause some (particularly younger generations because they've grown up with it) to fail seeing the difference in value between what's actually real and what is a digital representation. Look at NFT art or AI music, people consume it and some have paid exorbitant prices for a bunch of 0s and 1s which can be easily duplicated because of its digital nature. I think we need to pay closer attention to what kinds of digital tools we allow into our lives and not let them become a crutch. My hope is that AI is used in a positive way that frees up our time, so we can be more present with our loved ones and take more of an active role in the adventure of life instead of the lazy and depressing screen slaves of the Wall-E future, but if I had to guess, there'll probably be a bit of both.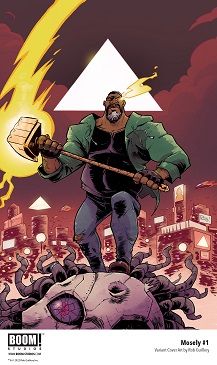 1st: How do you spend any free time you have?

Sam: Family outings and reading fiction, but if I have the time I love playing tabletop RPGs, board games and war games with family and friends; lots of HeroQuest, Dungeons & Dragons and Warhammer Fantasy among other favorites. I also enjoy building custom terrain and painting miniatures for our tabletop games. Yes, I'm that much of a nerd.

1st: What would you like to say to the fans of your work?

Sam: There are so many options for entertainment all competing for our attention, so I'm grateful to readers for spending some of their time in my tiny corner of the creative universe. I hope they connect with the stories and experience the same joy of living in another world as I do when creating.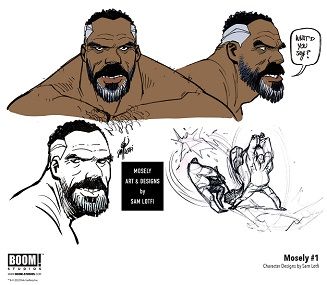 R
About Author