First Comics News: Have you had an interest in the metaphysical for a while and why are you drawn to it?
Madeleine Holly-Rosing: Let's back up a bit and talk about the definition of metaphysical. As you probably know, words take on new meaning and interpretations as time goes on and culture changes. Today, it's used in a more spiritual context. I use the term "metaphysical" as it was used in the 1800s to explain or refer to supernatural and paranormal events. I've always enjoyed supernatural stories, so it makes sense that I write them.
1st: Can you tell us what the basic storyline in "Boston Metaphysical Society" is?
Madeleine: The original six-issue mini-series is about an ex-Pinkerton detective, a spirit photographer, and a genius scientist who battle supernatural forces in the late 1800s Boston. (Art by Emily Hu. It is now in trade paperback from Source Point Press.) There are also three standalone graphic novel sequels (Art by Gwynn Tavares), a prequel novel, and an anthology.
They are:
Graphic Novels:
The Scourge of the Mechanical Men
The Spirit of Rebellion
Ghosts and Demons
Prose:
Boston Metaphysical Society: A Storm of Secrets
Boston Metaphysical Society: Prelude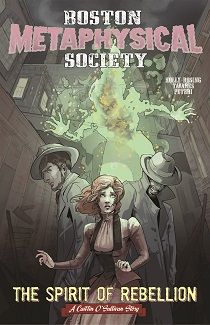 1st: How are Tesla and Houdini portrayed?
Madeleine: Tesla's an obsessive-compulsive individual, who is a bit of a smart-ass. He's also a class bigot until there's something in it for him.
Houdini is also a smart-ass, but he is a humanitarian who can see the larger picture when there is a problem.
1st: Why are Samuel, Granville, and Caitlin important to the book?
Madeleine: Each of these characters comes from different backgrounds and points-of-view; they each bring their own strengths and weaknesses to whatever the challenge is. (Think of them as Kirk, Spock, and McCoy.) They are stronger together than apart.
1st: Is Caitlin at all like you, in the art physically she does resemble you, was this done on purpose?
Madeleine: Hahahaha. Any physical similarity between myself and Caitlin is coincidental, though we both have Irish genes. She was loosely inspired by an obscure Irish actress whose name I can't recall.
Caitlin is a bit like me in that she is always pushing societal boundaries.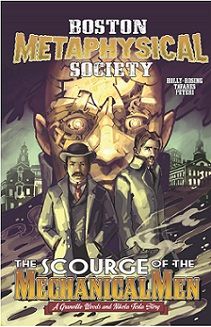 1st: What exactly is the Boston Metaphysical Society and what is its structure?
Madeleine: Boston Metaphysical Society is a paranormal detective agency.
Samuel is the ex-Pinkerton detective and brings many years of experience and insight. (He is also the founder.) However, he has a dark past that comes back to haunt him.
Caitlin is a medium and spirit photographer. Her father used to work for Samuel, but she took over his position when he died. She can speak to ghosts and can sense demons and other paranormal creatures. Her abilities evolve after her encounter with "The Shifter" in the original series.
Granville T. Woods is a historical figure and was a contemporary of Tesla and Bell. I brought him in as the science and tech guy who creates and builds the weapons Samuel needs to do his job. He is often in the field as well.
1st: Where do you see "Boston Metaphysical Society" in 5 years, 10 years?
Madeleine: I'd love to see audio plays, an RPG, and possibly a TV show or movie.
1st: What else are you currently working on or have planned for the future?
I'm working on a novel that is the first in a new series within the BMS universe. It starts at the beginning of what I call "The House Wars," and takes place thirty-five years before the original graphic novel. (The House Wars is my version of the American Civil War.) I'll need to hammer out the next graphic novel after that.
1st: Do you consider yourself a geek?
Madeleine: Yes. It's funny how that used to be considered a derogatory remark. hahaha
1st: What was your novella "Steampunk Rat" about?
Madeleine: Steampunk Rat is a prequel to the original graphic novel and the novel, A Storm of Secrets. The story centers on a young Jonathan Weldsmore who is the future father-in-law of Samuel Hunter and father of Elizabeth Weldsmore Hunter.
The blurb: All that fifteen-year-old Jonathan Weldsmore wanted to do was designed and build steamships to sail on the high seas. Treated like a poor relation within his own wealthy family, he had little hope of obtaining the future he desperately wanted. That is until he rescued and transformed an injured rat into the mechanism of not only his salvation, but his family's as well.
1st: Do you believe in ghosts, have you ever seen one?
Madeleine: No, I don't believe in ghosts and I've never seen one, but I love to read and write stories about them. It's so much fun.
1st: What about the style of Steampunk attracts you to it?
Madeleine: It's fun, whimsical, and makes what was old, new again.
1st: How do you feel about dogs as pets?
Madeleine: They are awesome. I love dogs. I didn't have dogs around until I got married since my Mom was allergic to them. I love cats as well, but I'm allergic to them.
1st: What would you like to say to the fans of your work?
Madeleine: Thank you for all your support. Without you, the Boston Metaphysical Society would not exist.
Bio:
Madeleine Holly-Rosing is the writer/creator of the Boston Metaphysical Society graphic novel series, companion novel, and short stories. She has also run seven successful crowding campaigns and published the book, Kickstarter for the Independent Creator. Winner of the Sloan Fellowship for screenwriting, and the Gold Aurora and Bronze Telly for a PSA produced by Women In Film, she has also won numerous awards while completing the UCLA MFA Program in Screenwriting. Source Point Press re-published the first six issues and the trade paperback of Boston Metaphysical Society original graphic novel in 2019/2020.
Other comic projects include the short story, The Scout which is part of The 4th Monkey anthology, The Sanctuary (The Edgar Allan Poe Chronicles anthology), The Marriage Counselor (The Cthulhu is Hard to Spell anthology) and the upcoming The Airship Pirate (The Rum Row anthology,) and The Birth which will be part of the Stan Yak Vampire anthology.
The first novel in the series, Boston Metaphysical Society: A Storm of Secrets, was awarded a Silver Medal in the SciFi/Fantasy category as well as The Write Companion Award for Best Overall TOP PICK – Adult, Children's and Young Adult categories in the 2019 Feathered Quill Book Awards.
Formerly a nationally ranked epee fencer, she has competed nationally and internationally. Madeleine is an avid reader of comics, steampunk, science fiction, fantasy, and historical military fiction.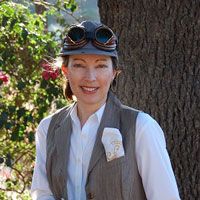 Social Media:
Website: www.bostonmetaphysicalsociety.com
Facebook: www.facebook.com/BostonMetaphysicalSocietyComic/
Twitter: www.twitter.com/mhollyrosing
Instagram: www.instagram.com/mcholly1
Store: boston-metaphysical-society-comic.square.site/
About Author