1st: How was the Genefex Gallery started?
Joshua: It was founded as Genesis Comics by Me and My friends Sean Nwambo and Douglas Oruambo back in Senior Secondary School ( High school in Nigeria) sometime in 2008, as time went we basically had to learn a lot about comics and the business while also creating characters and stories, which was the most fun part of it , Laughs
To avoid being mistaken for being connected with the Genesis Group of companies of Nigeria, it was now changed to Genefex which basically means 'Genesis Effect'
1st: Besides yourself who are a few of the staff at Genefex Gallery?
Joshua: We are currently just 2, Myself and Douglas Oruambo
We initially grew to 8 with the inclusion of Kurolayefah Owugah, Tenalo Kadilobari, Randy Ephraim, Godfrey Ebifegha and Onyeka Anyakora which led to the comics published around this period includes the Shadow Justice Mini-series, Camp Cross, Captain-J#1(Cw) and the H.O.P.E. Protocol Webcomic series as well. Due to several in-house issues, the company seized publication for about a year, right after Shadow Justice 4.
We're basically rebuilding as of now.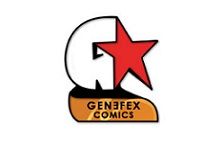 1st: What makes Captain-J a hero?
Joshua: Michael Bobmanuel, that's Captain-J's alter ego is a guy who has it all; a loving family, the money, the girls but felt he needed to make a change and putting his life on the line every time while doing so. An attack on a close friend made him realize the threats around him that need to be dealt with otherwise a lot of innocent lives will be lost, something all the wealth in the world won't bring back.
1st: What other titles should we look out for from Genefex Gallery?
Joshua: We're rebooting the comics line under the Genefex Gallery Comic Book Division Banner, 'Genefex Comics'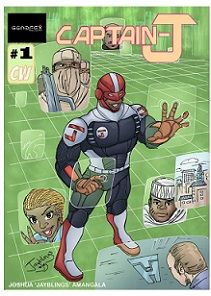 Some of the characters seen in the H.O.P.E. Protocol webcomic series will be getting a few redesigns and also their own titles. One of the titles in development now is Pluto #1. The character previously made an appearance in H.O.P.E. Protocol Part 17, He's not your typical nice guy, his powers go beyond typical and this is an opportunity to explore that in more depth and also who he is as a person.
Another Character Getting a reboot from H.O.P.E. Protocol is Spike, the bounty hunter in SPIKE #1, another title comic book readers need to look out for between now and Early 2020 and also Cheetah Girl #1 next year.
More of these new titles will be announced later on.
1st: You are a writer, what elements do you try to include in a story?
Joshua: As much character development at given points of the story, trying to distinguish these characters, I try to play with suspense especially with the action-adventure stories, then here comes my favorite the cliffhangers and that steady build to that climax plus integrating Real-world issues. even before I started writing, these are things I found interesting when reading books or watching television shows/movies.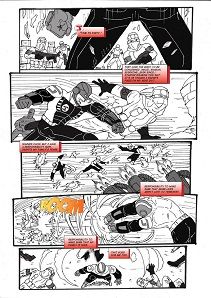 1st: If you could write for Marvel or DC which series would you most like to write and why?
Joshua: I'd definitely want to write a Justice League Series for DC. First of all, I'm a big fan of team books and having different heroes from different places who all have dealt with their own individual adversaries come together under one banner to fight bigger threats most often from their past is something that I enjoy about the Justice League franchise.
1st: Where is Genefex Gallery located and how does this affect the comics produced?
Joshua: Genefex Gallery is located in Port Harcourt City, Nigeria so we try to relate the stories to what's happening around us. Different locations have what's unique about them and Nigeria is no different, it has its own unique issues, problems and also its beauty.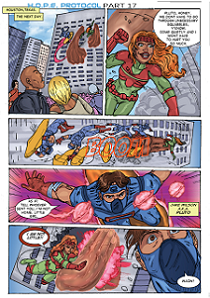 1st: What does the future hold for Genefex Gallery?
Joshua: We plan to expand into other fields of entertainment, animation, gaming, etc a way for people to have a different experience with our creations and content.
1st: What makes comics from Genefex Gallery stand out?
Joshua: I believe we are part of the movement to showcase not just Nigeria but African stories and its culture through our comics and related content to the rest of the world, this is one of the special aspects of the brand.
But we also don't believe our stories should be bound by our base of operation or locale, the creative freedom to tell any story about any culture in any part of the world is also what we are about.
1st: How did you get the nickname "Jayblings"?
Laughs… I got it during my senior secondary days. It stems from my love for the emoji with sunglasses. Add 'Jay' from Joshua plus shiny reflective shades 'bling' (which I had at the time too) and voila.
1st: What would you like to say to those who read your comics?
Joshua: A giant-sized thank you and appreciation for checking us out, much love. We'll keep trying to create great stories for their enjoyment.
With that being said, the new line ups will be worth their while and their money. Thank You.
About Author