First Comics News: What is the story in "Split Earth"?
Joey Yu: Decades after Earth has split apart in two, a group of female Warriors – along with their male blood-suppliers – must travel to the barren hemisphere on a rescue mission, only to find themselves landing on the wrong coordinate, confronted by a dangerous and mysterious force.

1st: Why did the Earth split apart?

Joey: You'd have to follow the story to find out 🙂

1st: What effects does the Earth being split have on the planet?

Joey: The most obvious will be the devastation of established civilizations. So you'll see new societies being formed around cities, particularly cities that fall within the "Habitable Zone" – a thin strip of land that still sees the rotation of night and day.

1st: What is Evernight?

Joey: Because of the new planet-wide phenomena, in both hemispheres, there are areas where you don't ever get to see the sun. Eternal hours of nighttime. Those are called Evernight.
On the other hand, there's a vast area (mainly the Pacific) that sees no nighttime, just forever day. Those are Everlight (and we made a song using this title 🙂
1st: Who are the main characters in "Split Earth"?

Joey: A team of 4 female Warriors, led by Captain Lotus.
Zerly (code name: Sprite) is the main protagonist. Her weapons always malfunction but now she's getting sent on a pretty dangerous mission, totally underprepared.

1st: Why did you want to create "Split Earth"?
Joey: As a fantasy/science-fiction writer, thinking of alternative realities has always been my passion. You can do so much with different settings, which encompass even more capacities for stories that wouldn't otherwise take place. I've written both fantasy and sci-fi novels (in Mandarin) that showcase entirely different worlds. So when I spoke with Zephyr and Monica about coming up with something truly unique, I had to filter in that the new world itself must be ultra visually stunning. One look, you get both an exclamation mark and a question mark on your head.
Earth split in two, yet hovering in space, locked onto each other, seemed like a pretty cool idea at that time. And honestly, no one has ever seen something like this because it defies all preconceptions and logic.

1st: Why should people get this comic book "Split Earth"?

Joey: If stunning artworks by Zephyr and Monica aren't reason enough already, it's a pretty cool concept to refresh the mind. And we have powerful, capable female Warriors using weapons nourished by their male partners' blood (a bit of counter-vampire concept) fighting spectral enemies.
Once you go beyond the amazing visuals and dig deeper into the story, you'll find lots of intricate details that will fuel your creative hunger. We're doing the best we can to make this comic an absolutely worthy journey for our supporters.

1st: What is the working dynamic between you and Monica and Zephyr?

Joey: Zephyr and I have worked together before so we understand each other's language. Monica serves as a guiding voice and a lubricant when there are frictions. The 3 of us work well together. We discuss almost everything together, from the creative decisions to ones that are business related.
Now that the world's foundation has somewhat been set, I would write out each chapter, partially based on design elements that Zephyr came up with, and then turn those into a crude storyboard. Monica takes part in the storyboarding job also. Actually, we all do. Then Zephyr does the lines and then we discuss and debate. Shaping the story narrative is a key process, need to make absolutely certain we are all very happy with it. And then the two of them will finish the panels with coloring, lighting, repositioning and all that. I'll finish adjusting the lettering while Monica and Zephyr move on to the next piece that I've penned down.
1st: What genre are your Mandarin novels and what are they about?
Joey: Fantasy and science-fiction. One is about a boy wearing an all-seeing artifact and changing people's lives along with his journey. One is about a snowball Earth resulted from a fallen meteor, generating radioactive clouds and blocking the sun for 5 centuries. And Sunlight became a religion in that story. There are other pieces too, long and short.

1st: What was your mobile game "Storm of Darkness" about, why should people play it?
Joey: It's a first-person-shooter game. You fight space monsters. Cool concept. But it's actually a very simple point-and-shoot game. Launched a couple of years back, kinda fallen behind in today's gaming standard. The next game I've written (on both the setting and story) is coming out in a few months.
1st: What other Asian comics have you worked on?

Joey: There is a famous franchise I was invited to give a try. Right now it's still a well-guarded secret so I'm afraid I can't reveal more.
1st: Do you have any ideas for other comics?
Joey: I've kept a whole hard drive of ideas. But right now we're focusing heavily on this Kickstarter campaign, can't divide our attention.
1st: Why did you decide to use Kickstarter and what is the link to it?
Joey: We thought about publishing in China first, but decided against it coz of various reasons. I've been an active backer on KS and always wanted to give it a try. We also wish to test out how the international community would receive Split Earth. So far it's working out better than we thought. We've had backers from North America and a lot of European countries. Some of them wrote us letters of encouragement. We're flattered and humbled. And we're happy we chose this route to bring Split Earth to the world, even if it's just a baby step. kickstarter.com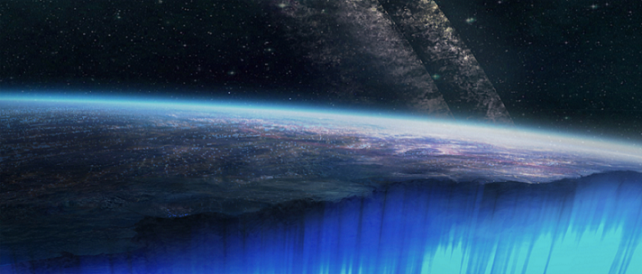 1st: Do you have anything to say to the backers on your Kickstarter?
Joey: Again, we are deeply humbled. Your support means so much to us, showing us there are people in all corners of the world that appreciate our creative efforts. It's not always easy for creators coming from Asia, coz in certain industries the rules aren't as well developed. So we decided to take things into our own hands and start with KS. You have given us a lot of hope.
Now we will try everything to make the campaign a success, and produce that amazing book and have it delivered safely to your hands. Help us share Split Earth with people you think might like fantasy/sci-fi comics, and write to us anytime 🙂
About Author