RICH INTERVIEWS: Donovan Yaciuk Colourist for Sovereign Traces: Not (Just) (An) Other Vol. 1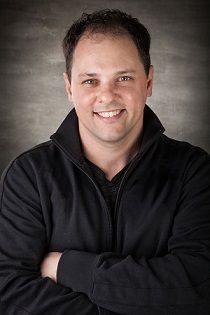 First Comics News: How did you end up working on "Sovereign Traces: Not (Just) (An) Other Vol. 1"?

Donovan Yaciuk: That came about through the artist, Scott Henderson. He invited me to colour his work on Jen Storm's Firestarters from High-water Press in 2015, and we've worked on a fair number of books together since then! I think Mermaids was the second project that we had worked together.
1st: You achieved wonderfully done colours on the mermaids and mermen how did you decide on the colours to use?

Donovan: This will probably NOT be the answer you would have expected, but I merely painted my nightmares! I have a very real case of ichthyophobia, I know all to well the terrifying colours of fish!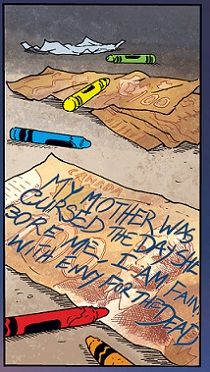 1st: The backgrounds have some nice shading and blending of colours does this take practice to achieve?

Donovan: I feel like I'm STILL learning. So I'd propose that it takes a lifetime of practice. In this particular book, I tried to step outside of my own comfort zone in a few places and try some new things – the eerie green clouds on the opening page, and the wet streets lit by electric fire in the final panel come to mind.
1st: How does one decide on the skin tones to use?

Donovan: What a great question! I have been wrestling with this for decades, and Mermaids was no exception. Our eyes can perceive subtle differences in the MILLIONS of colours that exist in reality. When translating those colour subtleties into the limited number of colours available to be reproduced by a modern printing press, it can be a challenge to show differences in skin tones without exaggerating them in ways that would feel like a caricature. It's something that I work hard at, and feel I get closer with every project I work on. But deciding on those colours takes a lot more work and fussing than a reader can imagine.

1st: What do you think of the story in "Mermaids"?

Donovan: I love Richard Van Camp's original short story, and was thrilled at the chance to work of a comic adaptation of it. It IS a different interpretation of the work, and hopefully what appears in Sovereign Traces holds up on it's own, and prompts people to seek out the original source material. You can hear a great reading of it here: soundcloud.com/richardvancamp/mermaids-from-angel-wing
1st: How did you find Scott B. Henderson's art to work on?

Donovan: I go through an interesting cycle with Scott's art! When I first see it, I'm excited by how well he tells a story, and can't wait to dive in. Soon after, I'm nervous about how long it will take to colour his incredibly detailed and beautiful artwork. By the end of it, I'm sticking pins into my Scott Henderson Voodoo Doll and cursing his name for putting me through all of the blood, sweat and tears I burn through to add colour to a page. About 30 minutes after handing in final pages, I can't wait to work with him again! His art is so full of detail and expression, and it takes a lot out of me to colour it, but I wouldn't have it any other way.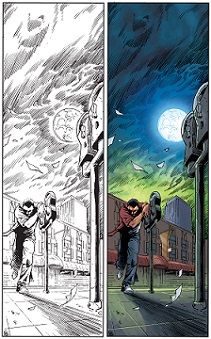 1st: You worked at Marvel, DC and Dark Horse as a colourist how did this help hone your skills?

Donovan: A lot of my work there was done around the turn of the century at the legendary Digital Chameleon studios, who pioneered digital colouring used in comic books today. For three years I worked colouring with a great team of people under Lovern Kindzierski, and it was a wonderful place to learn colour theory and printing with other like-minded artists. I don't know how new young colourists get the education that I did at Digital Chameleon on their own.
1st: You wrote "Spacepig Hamadeus and the Geysers of Doom" from Ronin Studios what was it about?

Donovan: I created Spacepig Hamadeus when I was ten years old, and am still publishing stories today! The ten-year-old inside of me is THRILLED that I've kept these characters and this universe alive. I try to get out a book every two years. You can order a bundle of four of them here: gum.co/pjTYZ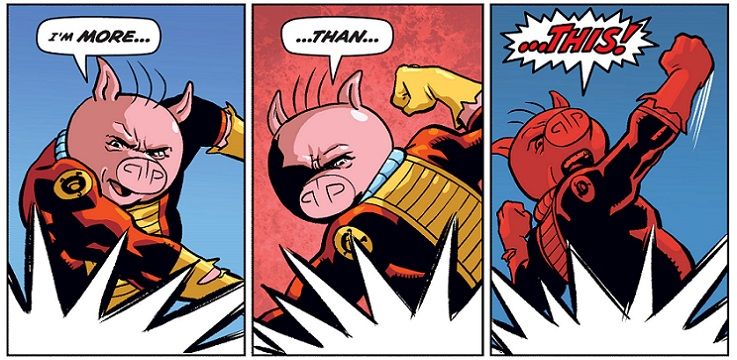 1st: Can you describe the process of colouring a comic?

Donovan: Sure! There's three basic steps involved – the first is flatting the page, getting all of the characters and shapes separated. This can often be aided by an assistant known as a flatter, who sets this first stage up. Second is colour choices, where the colourist takes over and assigns close-to-final colours, taking special care to make sure that the colours help separate the fore, middle and background in the artwork. Making sure that the colours aid he mood and emotions of the story is done at this step. Finally, the modelling or digital painting takes place, giving forms more dimension.
1st: How did it feel working on such an iconic figure as Captain Canuck?

Donovan: I won't lie – it was a huge thrill. Captain Canuck debuted in 1975 on the same month I was born, and I was born on Canada Day to boot! So this felt like a natural fit for me and my ego! I also got to work with Jason Loo, Emmanuelle Chateauneuf and Clara Meath – three great artists whose work I had admired for some time. I've got a few more surprise projects lined up with Chapterhouse Publishing and it's killing me to keep my lips sealed.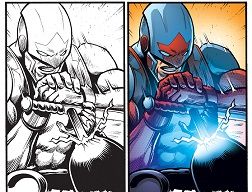 1st: What is next in your career for you?

Donovan: I've got some more Chapterhouse goodies lined up for later in the year, as well as the followup volume to last year's bestseller A Girl Called Echo with Scott Henderson and Katherena Vermette. There's also going to be a Kickstarter for Necropolitan this fall, which is destined to be a Netflix series one day – it's twisted and good, and features the talents of Mike Phillips, Julian Darius and Steven Legge. And perhaps most importantly, Spacepig Hamadeus and the Hordes of the Eighth Dimension should debut next year.
1st: What do you think of hockey?

Donovan: I'm obsessed. I've been a massive Winnipeg Jets fan for decades! I'm still surprised at how incompatible the worlds of art and sport are to some people. So many artists I know love sports, but people outside of art circles are usually surprised to find out people like us can enjoy hockey. All sports are unbridled prehistoric tribalism kept alive for the modern world. Rather than be disgusted at the urges of my reptilian brain, I've decided to just embrace them and run with it.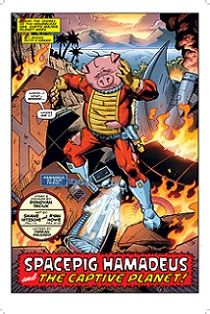 1st: Who has inspired you the most?

Donovan: That's a great question. In terms of colourists, Romulo Fajardo Jr and Matt Wilson are two of my favourites. People argue that colourists shouldn't get cover credits, because nobody buys a book for a colourist. I'm biased, but I buy nearly every book these two have worked on, JUST because their names are on them. Ronda Pattison is a fellow Digital Chameleon alumni, and I'd love to be able to put out the quantity and quality of work that she does. Outside of comics but still relevant, I'm deeply indebted to Abbas Elias, my high school art teacher, whose instruction and tutelage opened the entire world that surrounds the career that I enjoy today. I'll go to my grave thankful that our paths crossed.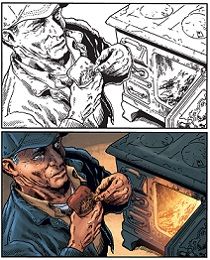 1st: Do you have anything to say to those who pick up your comics?
Donovan: Don't stop! Don't be afraid to try something new and out of your comfort zone. Be inspired by what you read, whether good or bad. Create.
https://www.firstcomicsnews.com/rich-interviews-donovan-yaciuk-colourist-for-sovereign-traces-not-just-an-other-vol-1/
https://www.firstcomicsnews.com/wp-content/uploads/2018/07/Sovereign-Traces-logo-600x257.png
https://www.firstcomicsnews.com/wp-content/uploads/2018/07/Sovereign-Traces-logo-150x64.png
Interviews
Rich Interviews
First Comics News: How did you end up working on 'Sovereign Traces: Not (Just) (An) Other Vol. 1'? Donovan Yaciuk: That came about through the artist, Scott Henderson. He invited me to colour his work on Jen Storm's Firestarters from High-water Press in 2015, and we've worked on a fair...
news@firstcomicsnews.com
Administrator
Your First Place For Comics News since October 18, 1998
First Comics News