First Comics News: Who are Mae and Jake?
Don Handfield: Mae is a student and lover of animals, Jake is an auto mechanic and single father. Both grieving the loss of Mae's mother/Jake's wife from five years prior in a car accident.
1st: What is the relationship like between Mae and Jake?
Don: There is a deep love between them but also a divide as both are grieving in their own separate, disconnected ways. Both are sharing guilt and blame for the accident that remains unspoken. Mae is in denial, expecting her mom to walk back in the door at any moment. Jake has taken down all of his wife's pictures so he doesn't have to think about her and feel his grief.
1st: Is Percy sad at the start of the graphic novel?
Don: Percy too is going through his own mourning and isolation. His manifests as anger and not wanting anyone around him.
1st: How does Mae grow throughout this book?
Don: Mae comes to terms with the loss of her mother and learns to deal with the grief in a way that is honest and hopeful, and also helps her dad do the same.
1st: Who is the artist on "Unikorn" and how would you describe their art style?
Don: Rafael Loureiro was our artist. I describe his style as if Pixar did 2D animation in the 90s. It is beautiful, but can carry real emotion and expression and complex feelings. I worked with Rafael on my previous comic series THE MALL love working with him. The process of making this graphic novel was a labor of love and very personal for all of us.
1st: What did you most enjoy about writing "Unikorn"?
Don: The most enjoyable part of making this book was disappearing into this world that reminded me of the great family books and films I loved as a kid.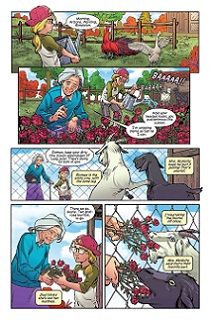 1st: Why should someone read your comic "The Mall"?
Don: The Mall is about three kids in the 1980s – the Princess, the Quarterback, and the Geek – who all learn they are related when a local Florida mob boss is assassinated and leaves them each a store in the local mall that is also a front for the mob. If you like movies like Scarface and Goodfellas, but also are a fan of 1980s coming-of-age films like Can't Buy Me Love and Pretty in Pink — then I think you would enjoy this series.
1st: What is "Knightfall" and how do you find working on it?
Don: Knightfall is a TV Series that aired on History Channel that I co-created and Executive Produced. Getting a pilot I wrote on spec made into a big-budget drama series was a dream come true. The billboard for the show was on Sunset Blvd right above the restaurant I waited tables in for years as I struggled to enter the business which really helped me put it in perspective.
1st: What does a Chief Media Officer do?
Don: My responsibility as Chief Media Officer is to both increase Scout's presence in media — brand awareness across the board — and also to help develop and produce our titles and catalog for the entertainment industry.
1st: How did you and Joshua Malkin get together to create this book?
Don: Joshua and I have been friends for several decades. We wrote a comic series called THE SOURCE together that was published by Scout. We both then had children and wanted to create something that we could enjoy with them.
1st: Who are some people you admire and why?
Don: I was raised by a single mother. I admire her for all she did, and also that she is the one who instilled in me a love for film, television, and comic books. I also admire the great filmmakers of the family films of my youth: Spielberg. Zemeckis. Donner. This was a time when the best filmmakers in the world were making films for families and these movies still hold up.
1st: Would you like to ride a unicorn?
Don: Who wouldn't?
1st: Besides a unicorn what other mythical creatures would you like to write about?
Don: Faeries. Phoenixes. Griffins. I would love to tackle them all.
1st: What do you have to say to those who enjoy this comic?
Don: Thank you for taking the time to read the book!
About Author