First Comics News: Why is Hunter Murphy going to be a character people want to follow?
Cullen Bunn: Hunter Murphy doesn't know who he is. He wakes up in the New York City morgue with no idea how he got there and no real memory of the past. All he knows is that he has some sort of strange connection to the city and to those who live there. His quest of self-discovery will prove interesting to readers, I think, and the mystery only gets deeper and more "mythological" as it is unraveled.
1st: Who exactly are the Wide-Eyed Three what makes each one stand out?
Cullen: The Wide-Eyed Three is a trio of conspiracy theorists who are so desperate to be believed that they'll kill to prove their point. We have Charlie Bones, a blind madman who claims to have a dozen other senses. There's Stank, who is a bit of a supernatural gizmo genius. And there's Judy, who is possessed by a demon… but he claims that's only a minor problem.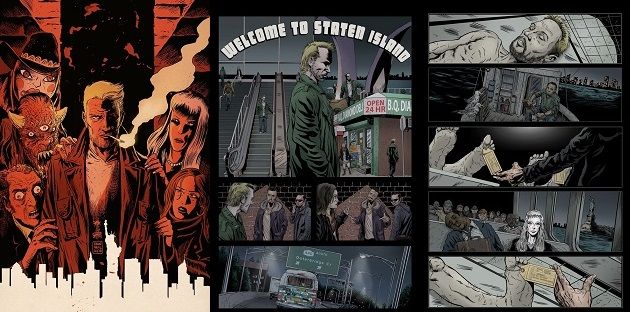 1st: Can you describe Walt Flanagan's art on "Metro"?
Cullen: Walt is such an amazing talent. His work is gritty and dark and violent and fun all at the same time. He genuinely loves this project. He's invested in it, and it shows on every panel.
1st: What type of setting is the world that "Metro" takes place in?
Cullen: METRO takes place in our world. It's very much a real-world story… except that there are secrets about the world that most of us are not privy to. There are ancient histories that have been buried and forgotten, truths that could shake our very understanding of reality to the core. This is a weird, absurd, dark fantasy that just happens to take place in our world. It is familiar and strange all at the same time.
1st: How do you find co-writing with Brian Quinn, how does it compare to doing it on your own?
Cullen: Co-writing can be both rewarding and a lot of fun when it is a great experience. I've had many good co-writing gigs… and a few bad ones. This time around, I'm happy to say, it is a terrific experience. Brian and I aren't just telling a story here. That's part of it, sure, but we're also building a world. We get excited about the many, many directions this story could go, and we can't wait to embark on the next stage of the journey.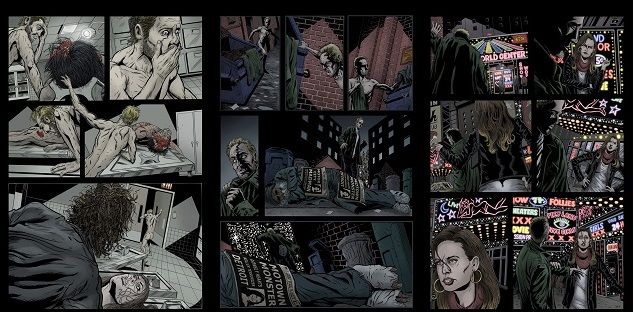 1st: Who is the publisher of "Metro"?
Cullen: Since we're running this project as a Kickstarter, I guess that WE are the publishers. But we are working with some very knowledgeable and talented people to help us see the campaign through to the end and deliver books to our backers very rapidly. All of the artwork is done for the book, so our backers will not find themselves waiting forever for the book to be completed! And we're going to make sure that retailers who want to carry the book will be able to do so. We have some great deals for them on the Kickstarter campaign, and we will have distribution for the trade paperbacks as well.
1st: Why are you using Kickstarter and what type of rewards can readers expect on there for "Metro"?
Cullen: We decided to go through Kickstarter so we could maintain total creative control of the project. We wanted to do this book our way. Rewards range from PDF copies of the book to trade paperbacks to limited edition hardcovers. We also have some amazing stretch goals that have already been unlocked, like autographed bookplates and print sets! I really hope everyone checks the project out at Kickstarter.com
About Author