The '90s Classic Revived as "DISSIDENT X"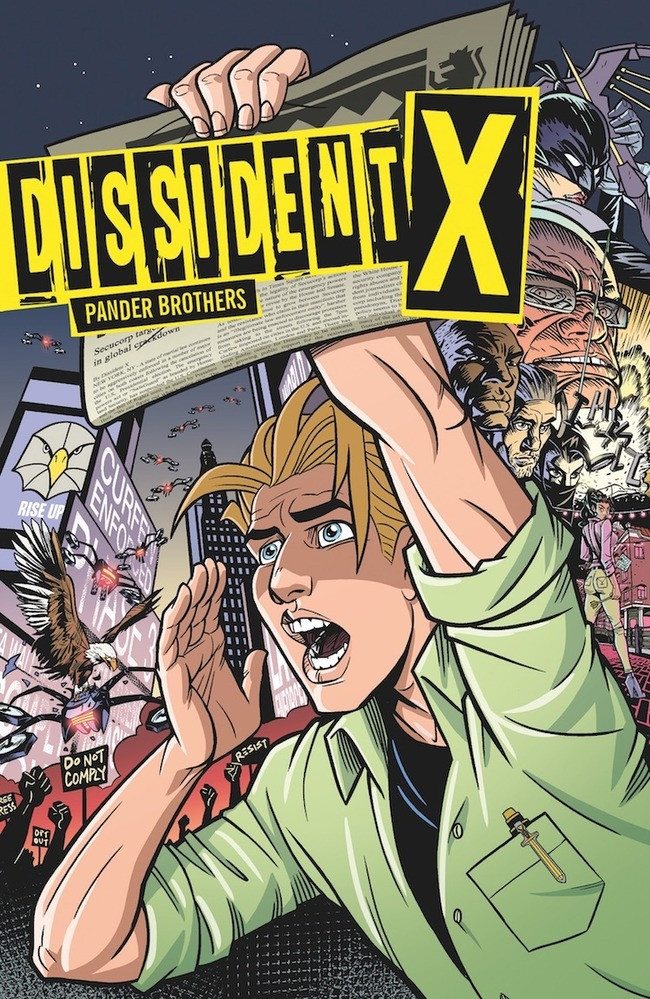 MILWAUKIE, Ore., (March 13, 2019)—In 1994 the Pander Brothers brought us the political sci-fi thriller graphic novel, Triple X. Now, 25 years later, Triple X has been remastered and rereleased with all new never-before-seen story and art as Dissident X.
In Dissident X, Hans Nobel, a fugitive American journalist with a photographic memory, must escape a 2033 surveillance state after New York City falls under martial law, only to find a new tyrannical conspiracy awaits him in Amsterdam. With nowhere left to run, Hans must choose between the pen or the sword to expose the truth and ignite a revolution. Dissident X takes us on a wild ride into a not-too-distant fictional political dystopia with state-controlled media, mega-corporation domination, and ecological destruction.
Since 2016, the Eisner Award-nominated Pander Brothers (Grendel, Triple X, Girlfiend) have been busy producing new story, art and colors for this definitive edition of Dissident X that presents not only the original graphic novel—now in full color—but also includes a brand new introductory prequel and finale, completely remastered and redrawn artwork, and a never before seen sketchbook section.
The 416-page Dissident X TPB goes on sale for $29.99 in comic shops September 4th 2019 and wherever books are sold September 17th. Dissident X TPB is available for pre-order on Amazon and at your local comic shop.
About Author