America's First Fully Painted Graphic Novel, Moonshadow, has a new home at Dark Horse!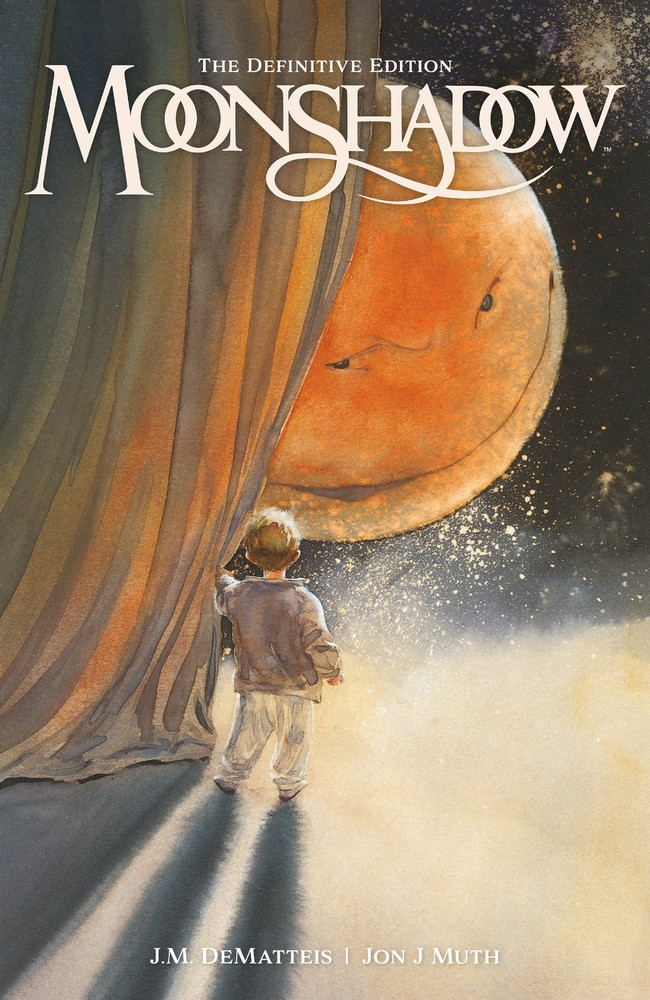 MILWAUKIE, Ore., (January 16, 2019)—Known as America's first fully painted graphic novel, the poetic, philosophical, and groundbreaking Moonshadow gets a deluxe hardcover treatment available Summer 2019. This definitive edition with over 500 pages includes a new introduction by creator J.M. DeMatteis, as well as a bonus section featuring early concept work.
Moonshadow tells the story of a romantic, unreliable narrator who leads us through his interplanetary coming-of-age story, as an older Moonshadow recounts his strange birth in outer space, his escape from a deep-space zoo, and his struggles to survive in a war-torn universe.
Featuring gorgeous watercolor artwork by Eisner Award Winner and Caldecott Honoree Jon J Muth (Neil Gaiman's The Sandman: The Wake), this influential "fairy tale for adults" includes the Farewell Moonshadow illustrated novella that gives fans a look at Moon's life after his tumultuous, space-faring teens and misadventures with the miscreant Ira. Digitally restored and including all original cover work, this volume also includes illustrations by Kent Williams (Epic Illustrated, Havok, Wolverine: Meltdown) and Eisner Award Winner George Pratt (Wolverine: Netsuke, Epic Illustrated, Enemy Ace: War Idyll) and lettering by Kevin Nowlan (Lobster Johnson, The Goon: Noir, Doctor Strange). A sci-fi fantasy that Ray Bradbury called, "Beautiful, original, haunting," and DeMatteis himself calls "Dickens' David Copperfield meets Siddhartha in space."
This beautiful classic returns to comic shops June 12, 2019, arrives in bookstores on June 25, 2019, and is available for pre-order on Amazon, Barnes & Noble, and at your local comic shop.
In addition to this new hardcover treatment of Moonshadow, J.M. DeMatteis will also publish The Girl in the Bay, a new comic series with artist Corin Howell, on February 6, 2019. The Girl in the Bay is the next installment in Karen Berger's critically acclaimed Berger Books imprint at Dark Horse.
About Author