A Suave, Globe-Trotting Jewel Thief Takes on an Elite
Crime Syndicate in the IDW Original Comic Book Series by
Andrew Wheeler and Ilias Kyriazis
SAN DIEGO, CA (February 9, 2022) – IDW is proud to announce the explosive upcoming debut of Cat Fight, a stylish six-issue miniseries with an elegant feline flair! Cat Fight follows a debonaire jewel thief whose decadent sensibilities and taste for high-powered thrills inadvertently lead him down a path of illicit intrigue. Debuting in May 2023, Cat Fight is written by recent GLAAD Media Award nominee and Eisner Award winner Andrew Wheeler (Sins of the Black Flamingo) with art by Ilias Kyriazis (Collapser), inks by Auguste, and colors by Dennis Yatras.
Caught up in the glamor and excessive lifestyle of an international career criminal, Felix Lamarr lives only for the thrill of the next big score. Suddenly contacted by his estranged and wealthy grandmother, he is shocked to learn that she is a storied career criminal herself—the lithe and legendary burglar Kitty Midnight—and that she wants him to partner with her cat-themed associates on a lucrative upcoming heist. Unaccustomed to collaboration, Felix declines Kitty's offer…but a shocking incident sends his life into a sudden, chaotic tailspin. Framed for murder and on the run from a mysterious syndicate, he leaps at full-throttle from one international hot spot to the next in a deadly game of cat and mouse!
"I'm so excited for readers to escape into our world of glamorous adventure! Cat Fight is an action thriller about family and connection in an age of disconnection, a vacation from gray skies and ordinary lives," says Wheeler. "The art team has done an incredible job bringing this breakneck ride to life. It's John Wick meets Kill Bill meets…well, Cats!"
"The most exciting part of working on Cat Fight has been drawing breakneck, globe-trotting action sequences in collaboration with Avgo and Dennis Yatras, two incredibly talented Greek artists that I've had my eye on for some time now," says Kyriazis. "Plus, I really do enjoy drawing cats…even though I suspect it may have made my own cat jealous."
"Cat Fight mixes suave characters, fashion, and the chaotic claws of cat-themed jewel thieves, all under the watch of an Eartha Kitt–inspired leading lady… so the second this pitch came across my desk, I knew it would be a hit," says senior editor Heather Antos. "Mix that with Andrew's clear vision for the series and Ilias's cleverly crafted visual storytelling alongside Dennis and Avgo's finishes, and we've got a fun and colorful litter that no one can deny."
Cat Fight #1 will be available with multiple variant covers for fans and retailers to enjoy, including Cover A by series illustrator Ilias Kyriazis, Cover B by Morgan Beem, and retailer incentive variants by Alex Moore, Veronica Fish, and Sweeney Boo.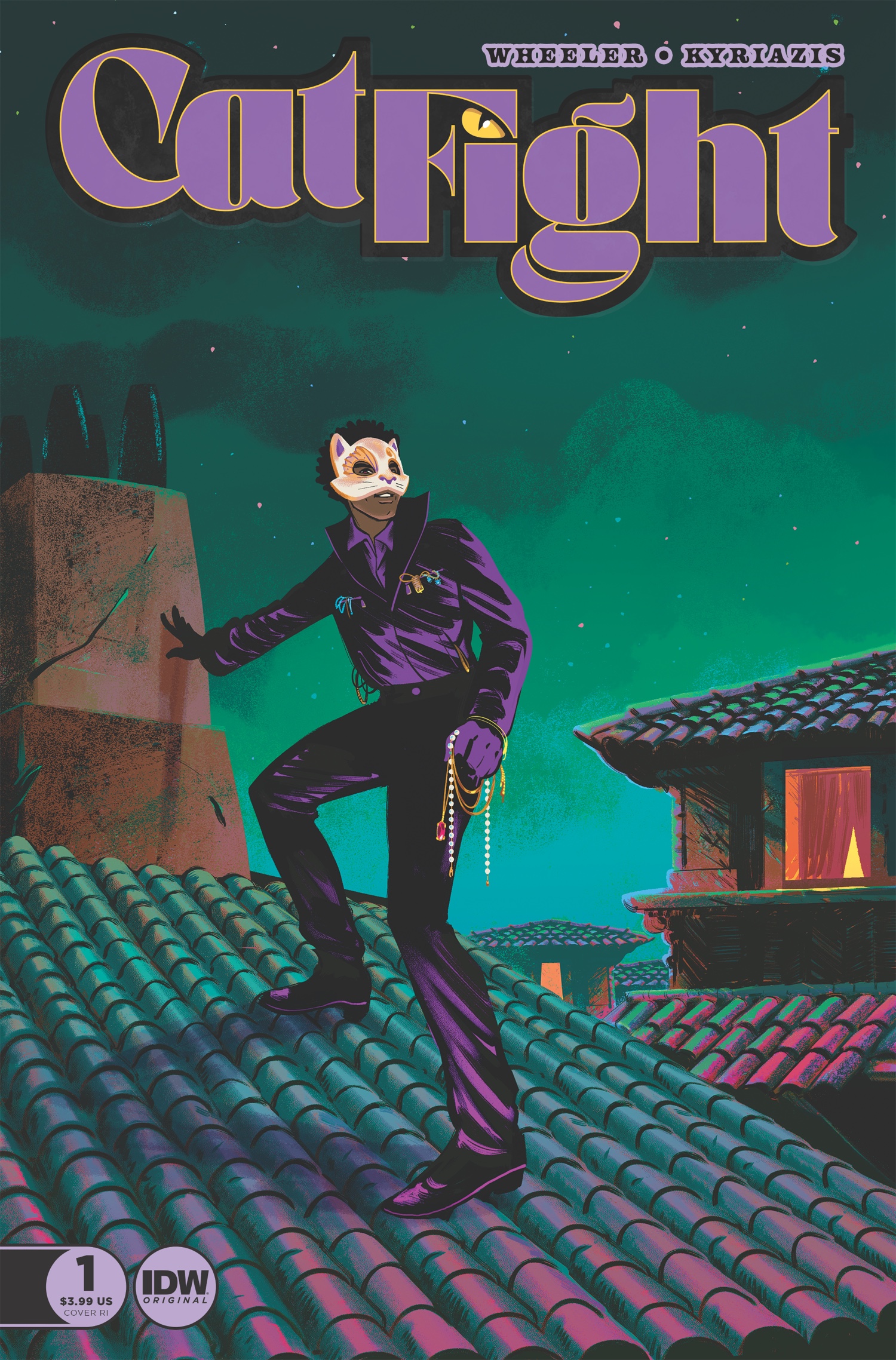 For information on how to acquire copies of Cat Fight and other original IDW comic books, please contact your local comic shop or visit www.comicshoplocator.com to find a store near you.
About Author