The original graphic novel by Mickey George with art from V. Gagnon explores immortality, love, and greed, but with a bit of a darker twist 
Available in bookstores and online retailers on August 3, 2021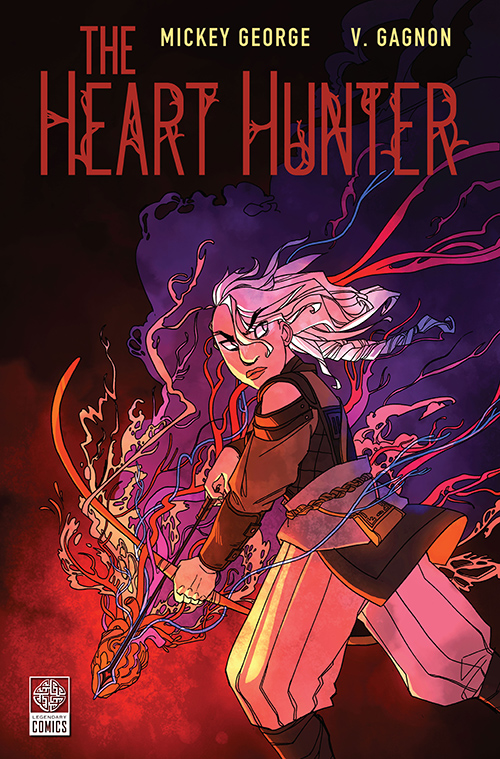 For The Heart Hunter cover art, please visit: https://bit.ly/3d2gV2b.
The Heart Hunter is set on the cursed island of Envecor, where everyone is doomed to wear their heart outside their body and are immortal—unable to die, to change, to have children — until they find their soul mate. Paired soul mates are then turned mortal, freed from the curse, and able to leave. But all fairy tales have a dark side: those who don't want to lose their immortality pay "Heart Hunters" to find their soul mates and kill them so they may remain immortal. Psyche, a Heart Hunter, is hired by the king to kill his soulmate. As she sets out on her quest, she begins her own journey of mending her broken heart and learning to trust again.
Writer: Mickey George
Artist: V. Gagnon
Editor: Legendary Comics' Nikita Kannekanti
To pre-order, please visit: http://bit.ly/3q7sn05
The Heart Hunter is one of many titles in Legendary Comics' growing slate of upcoming visionary and inclusive YA stories. Other titles include: Championess (based on the real-life bare-knuckle boxer Elizabeth Wilkinson in eighteenth century London from Tarun Shanker and Kelly Zekas); Lupina (a six-part captivating saga about a young girl on a journey of revenge with her wolf companion from Eisner Award-nominated writer James F. Wright and artist Li Buszka); and The Witches of Silverlake (following Elliot Green and his coven of queer, teen witches in Los Angeles from singer-songwriter Simon Curtis).
About Author