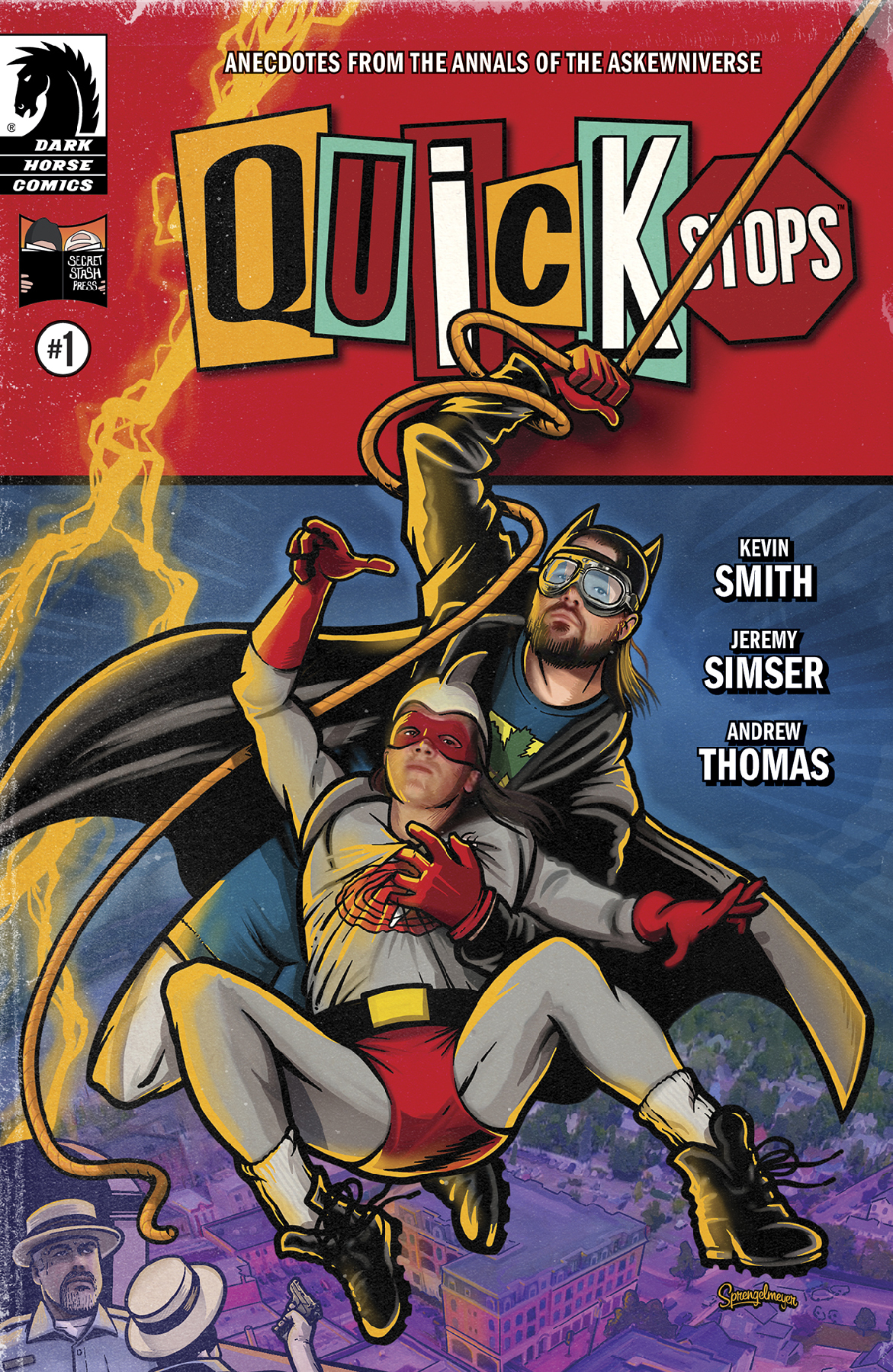 Anecdotes from the Annals of the Askewniverse
MILWAUKIE, Ore., (August 23, 2022)— Following in the footsteps of the Lionsgate theatrical release CLERKS lll, Dark Horse Comics proudly presents Quick Stops, the next series from Kevin Smith's Secret Stash Press! An ongoing anthology of convenience stories set in the world of Smith's View Askewniverse films, Quick Stops is written by Smith himself and features different artists for each issue! And just like that the little film that started it all, the tales are told in beautiful black and white!
In the premiere issue of Quick Stops, Chronic-Con guest of honor Holden McNeil tells Chasing Amy's Alyssa Jones and a packed Chronic-Con crowd his story of going green with legendary loiterers Jay and Silent Bob in the Quick Stop cooler – and how it directly led to the birth of his Bluntman and Chronic comic books! Jermey Simser will pencil and ink the first issue with Andrew Thomas lettering. The cover art is by John Sprengelmeyer, with a variant by Simser.
"Quick Stops is where I finally get to tell tales from across the Askewniverse that I've always wanted to write!" Smith said. "And even though Jason Mewes and I keep getting older in real life, in the pages of Quick Stops, our rotating roster of amazing artists will keep us both looking forever 90's young! This has been the most fun I've had writing in my life because all these chatacters mean so much to me! I can't wait to reach 100 issues one day! But for now, I'll settle for Issue #1!"
Quick Stops #1 (of 4) will be available at comic stores November 2, 2022. It is now available for pre-order at your local comic shop. Quick Stops #1 will retail for $3.99.
About Author