NEW SERIES FROM THE EISNER AWARD-WINNING TEAM OF JEFF LEMIRE AND MIKE DEODATO JR.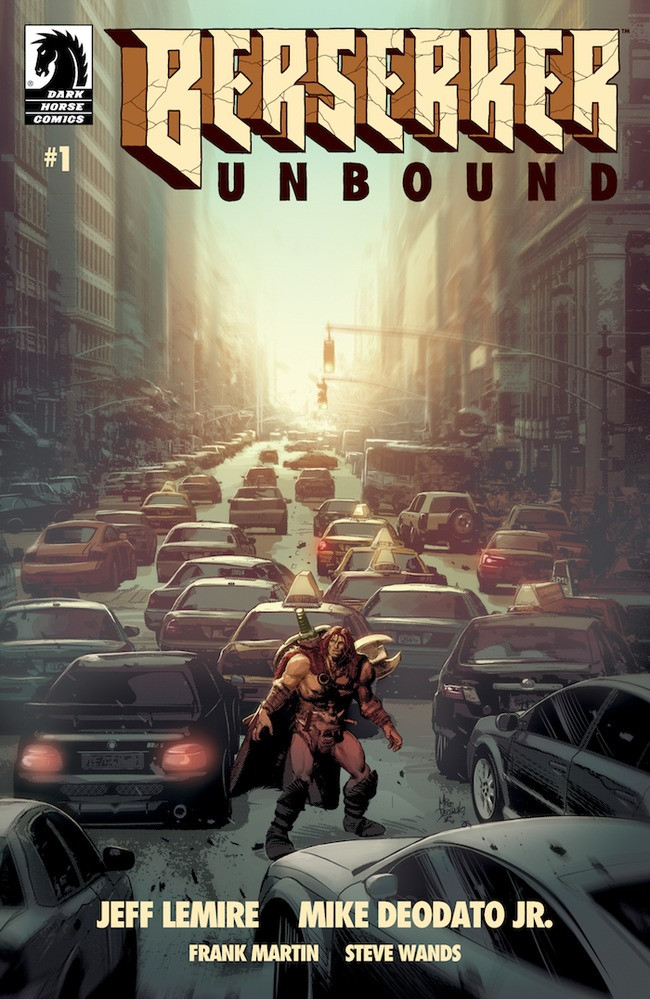 MILWAUKIE, Ore., (March 5, 2019)—Writer Jeff Lemire (Black Hammer), artist Mike Deodato Jr. (Thanos), and colorist Frank Martin (East of West) are joining forces once again, this time to bring a modern twist to an epic fantasy in Berserker Unbound. Dark Horse Comics is excited to release this action-packed new series, with covers by both Mike Deodato Jr. and a first issue variant by Hellboy's Mike Mignola!
Berserker Unbound kicks off with a merciless, sword-wielding warrior thrown through a wormhole to a modern day metropolis. Our hero quickly realizes that he must protect this new world from an evil wizard who will stop at nothing to send him and this new world to hell.
"I really wanted to draw a barbarian story and Jeff turned this dream of mine into a reality with this deeply emotional story of friendship seen through multiple dimensions. I am not exaggerating when I say this book has the most epic battles I've ever drawn! Berserker Unbound is a turning point in my career." – Mike Deodato Jr.
"As soon as I had a chance to work with Mike Deodato on Thanos at Marvel I knew it would be the start of a beautiful partnership. We immediately started talking about the potential of teaming up for a creator-owned series. Mike is an incredible artist and, with Berserker Unbound, I tried to model a story to all of his many strengths. Berserker Unbound is many things. It has magic, action, and blood, but it also has heart. And it's not at all what it first appears to be. We're both very excited to be working together at Dark Horse, with Frank Martin and Steve Wands, to build the worlds of both Berserker and the world of Cobb, his unexpected companion." – Jeff Lemire
Berserker Unbound #1 (of four) goes on sale August 7, 2019
About Author