Discover Lauren Marx's First Art Collection Presented by Dark Horse Books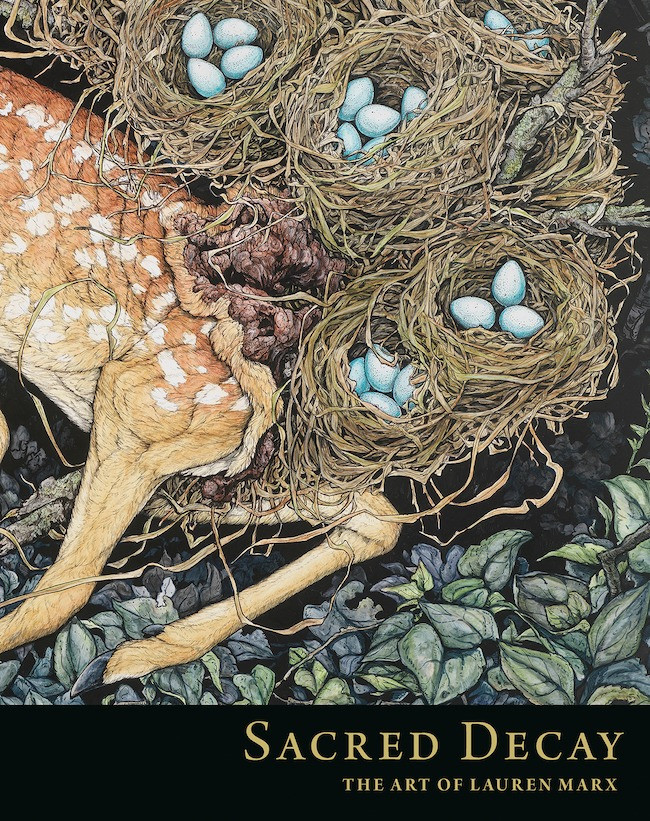 MILWAUKIE, Ore. (December 13, 2019) — Fungus blooms and dies, bones weather, and moths form halos around dismembered animals in this darkly exquisite collection from acclaimed artist Lauren Marx. In Sacred Decay: The Art of Lauren Marx, Marx brings her uncanny subjects to life–or death–with awe-inspiring texture and intensity. Birds, beasts, fish, plants, and more blossom radiantly on the page in their cycle of birth and destruction.
The new oversized collection features the striking work from Lauren Marx's latest gallery exhibition, "Chimera," and more, featuring over 120 pages of full-color art. Don't miss this stunning hardcover for $29.99!
Sacred Decay: The Art of Lauren Marx goes on sale July 22, 2020, and is available for pre-order on Amazon, Barnes & Noble, and at your local bookstore or comic shop. And for fans in the Los Angeles area this holiday season, be sure to check out Lauren Marx's latest art show, opening December 14th at the Corey Helford Gallery!
Praise for Lauren Marx:
"Lauren Marx's works pull the eye in with beauty, then twist into the horrifying, then back to the beautiful again. She encapsulates perfectly the paradox of nature. Awesome stuff!" —James Gunn (Guardians of the Galaxy)
###
About Author