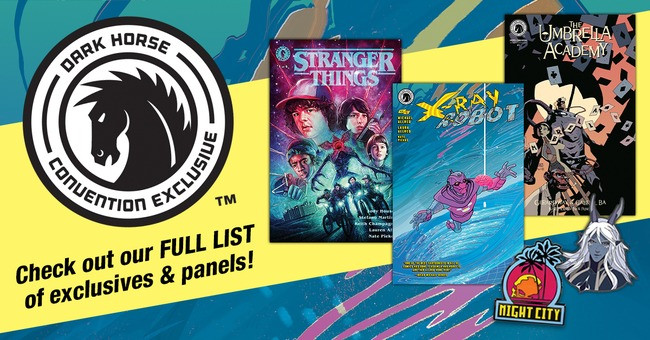 Join us online for panels featuring some of Dark Horse's world-renowned creators! Visit
https://www.comic-con.org/cci/2020/athome
for more panels featuring Dark Horse creators and to learn more about how to watch.
THURSDAY, JULY 23
2:00 PM PT
Draw Along With Dark Horse
Panelists: Gabriel Bá, Naomi Franquiz, Tyler Crook, Mike Deodato
Dark Horse Comics invites you to join Gabriel Bá (The Umbrella Academy), Naomi Franquiz (Tales From Harrow County: Death's Choir), Tyler Crook (Colonel Weird: Cosmagog), and Mike Deodato (Berserker Unbound) as they discuss breaking into comics, visual storytelling, and the process of illustrating comics. They even draw each others iconic Dark Horse characters!
FRIDAY, JULY 24
1:00 PM PT
Water, Earth, Fire Air: Continuing the Avatar Legacy
Panelists: Michael DiMartino, Faith Erin Hicks, F.C. Yee and Gene Luen Yang
Dark Horse Comics, Abrams Books and Nickelodeon are thrilled to treat fans to a panel worthy of the Avatar! Gain insight on the past, present and future of Avatar: The Last Airbender and The Legend of Korra with creators and writers, Michael DiMartino, Faith Erin Hicks, F.C. Yee, and Gene Luen Yang for a 15th-anniversary exploration of the beloved world.
SATURDAY, JULY 25
12:00 PM PT
Dark Horse All-Stars
Panelists: Gerard Way, Nnedi Okorafor, Matt Kindt
Join three of the industry's best creators including Gerard Way, co-creator of The Umbrella Academy; Nnedi Okorafor, co-creator of LaGuardia; and Matt Kindt, co-creator of BANG! for a roundtable discussion about characters, the writing process, and the joys of creating.
NEW CONVENTION EXCLUSIVES DEBUTING 2020
2020 is an unprecedented year, and while we're all coming together from home, Dark Horse comics is thrilled to offer fans the chance to get our 2020 convention exclusives through
Dark Horse Direct
. All convention exclusives are
available for purchase now
!
BANG! #1 Convention Exclusive Sketch Cover (Matt Kindt)
$40.00 each
Limited quantity of 500
Limit of 1 per person
A best-of-the-best secret agent with memories he couldn't possibly possess, a mystery writer in her 60s who spends her retirement solving crimes, a man of action with mysterious drugs that keep him ahead of a constant string of targeted disasters, a seemingly omnipotent terrorist organization that might be behind it all . . .
And they're all connected to one man: a science-fiction author with more information than seems possible, whose books may hold the key to either saving reality or destroying it.
* A mind-bending story that ties in with past Kindt works (Revolver).
Action, mystery, and altered reality! Individual, one of a kind, sketched covers by Matt Kindt! No two copies will be the same!
** Cover selection is randomized upon order placement. Sketch will not match the image displayed. Sketches may include line art, stamp work, artistic damaging, etc. This item is NOT eligible for return or exchange.
X-Ray Robot #1 Convention Exclusive Variant (Christian Ward)
$10.00 each
Limited quantity of 1000
Limit of 5 per person
Max is a family man seeking a more interesting life. While conducting a new experiment at work, the fabric of his reality is torn before his eyes, and a robotic figure appears, claiming to be his 277-year-old self. The robot is able to "X-Ray" multiple dimensions and battles a nihilistic entity from another dimension who wants to take all life to its "Pre-Big Bang" status. Max and the robot embark on an interdimensional roadtrip through past and future to take down the "Nihilist" and save the universe!
* Mike Allred's new bizarre superhero character X-Ray Robot!
"One of the best cartoonists in all of comics has done it again! X-Ray Robot is another Allred homerun!!" -Brian Michael Bendis
"Michael Allred kicks so much ass I can barely stand it. X-Ray Robot is the work of a master!" -Rob Thomas, creator of Veronica Mars
Exclusive cover art by Christian Ward! This stunning artwork plays homage to the Seattle grown grunge phenomena, Nirvana.
Machine Gun Wizards Convention Exclusive Book Plate (Christian Ward)
$10.00 each
Limited quantity of 200
Limit of 5 per person
An adhesive bookplate with exclusive art by Christian Ward to apply to your copy of Machine Gun Wizards.
Eliot Ness and his team of Untouchables work overtime taking on dangerous criminals that hide in the seedy underbelly of 1930s Chicago. Except in this world, Al Capone isn't dealing in alcohol, but in magic. With Lick, a drug that grants magical powers to anyone who ingests it, mobsters become wizards, ordinary men become monsters, and darker secrets than Ness can imagine lie at the heart of it all.
Collects the four-issue miniseries and features a sketchbook section and pinups by Declan Shalvey, Ian Bertram, Tula Lotay, and more.

ALSO AVAILABLE ON DARK HORSE DIRECT
Stranger Things #1 Glow-In-The-Dark Convention Exclusive (Kyle Lambert)
$15.00 each
Limited quantity of 4,000
Limit of 5 per person
The nostalgia-igniting hit Netflix original series comes to comic shelves. Follow Will Byers into a dimension of decay and destruction where he must use his wits and resolve to dodge the pursuit of the Demogorgon and escape the Upside Down.
* Written by award-winning comics veteran Jody Houser (Faith, Orphan Black, Mother Panic).
* Based on Will's unseen journey during season 1 of hit Netflix show Stranger Things.
Exclusive cover art by Kyle Lambert, featuring Glow In The Dark detailing!
The Umbrella Academy: Hotel Oblivion #1 Convention Exclusive (Mike Mignola)
$10.00 each
Limited quantity of 4,000
Limit of 5 per person
Faced with an increasing number of lunatics with superpowers eager to face off with his own wunderkind brood, Sir Reginald Hargreeves developed the ultimate solution.
Now, just a few years after Hargreeves's death, his Umbrella Academy is scattered. Number Five is a hired gun, Kraken is stalking big game, Rumor is dealing with the wreckage of her marriage, a rotund Spaceboy runs around the streets of Tokyo, Vanya continues her physical therapy after being shot in the head–and no one wants to even mention Seance until issue #2.
With a Netflix series soon to debut, the award-winning and best-selling superhero series returns, stranger than ever.
And their past is coming back to hunt them.
Exclusive cover art by Mike Mignola!
Critical Role: Vox Machina OriginsII #1 Convention Exclusive (Babs Tarr)
$10.00 each
Limited quantity of 4,000
The unlikely heroes of Vox Machina are back in action!
Join familiar faces from Critical Role's smash-hit first campaign as their escapades in Stilben lead them toward new adventure–and a dire threat to Grog when he goes missing in the night. Tracking him down will see the party lose one member, gain another, and reveal parts of Grog's secret past. But first, his friends have to actually find him.
From award-nominated writer Jody Houser (Orphan Black, Stranger Things) and first series artist Olivia Samson, with colorist MSASSYK (Isola, Gotham Academy) and letterer Ariana Maher (James Bond, Xena)! Exclusive cover art by Babs Tarr!
American Gods: My Ainsel #1 Convention Exclusive (Christian Ward)
$10.00
Limited quantity of 1,000
Limit of 5 per person
The bizarre road trip across America continues as our heroes gather reinforcements for the imminent god war!
Shadow and Wednesday leave the House on the Rock and continue their journey across the country where they set up aliases, meet new gods, and prepare for war.
The Hugo, Bram Stoker, Locus, World Fantasy, and Nebula Award-winning novel and hit Starz television series by Neil Gaiman is adapted as a graphic novel!
Hellboy: Seed of Destruction 25th Anniversary #1 Convention Exclusive (Mike Mignola)
$10.00
Limited quantity of 4,000
Limit of 5 per person
This special 25th anniversary edition of the first issue of Hellboy depicts his arrival on earth in the midst of WWII to the return of his adoptive father from a failed Arctic expedition, and Hellboy's first encounter with Mignola's infamous frog monsters. Features a new cover by Mignola with Dave Stewart.
Exclusive cover color by Dave Stewart!
Black Hammer/Justice League: Hammer of Justice! #1 Convention Exclusive (Christian Ward)
$10.00 each
Limited quantity of 1,000
Limit of 5 per person
DC Comics and Dark Horse Comics present the ultimate superhero crossover event of 2019!
A strange man arrives simultaneously on Black Hammer Farm and in Metropolis, and both worlds are warped as Starro attacks! Batman, Green Lantern, Flash, Wonder Woman, Superman, and more crossover with Golden Gail, Colonel Weird, and the rest of the Black Hammer gang!
Exclusive cover art by Christian Ward! Limited Edition of 1000.
Xerxes: The Fall of the House of Darius and Rise of Alexander #1 Foil Convention Exclusive (Frank Miller)
$15.00 each
Limited quantity of 1,000
Limit of 5 per person
The Persian Empire is vast beyond imagining. It seems destined to last a thousand years . . . But a whirlwind comes from the west: the greatest warlord the world will ever know. Alexander!
Exclusive cover from Frank Miller with gold foil detailing!
Critical Role: Vox Machina Origins Logo Pin
$10.00
Limited quantity of 3,000
Limit of 5 per person
Also available at critrole.com
Celebrate the second series release of our Vox Machina Origins comics with the Origins-inspired pin.
Cyberpunk 2077: Night City Enamel Pin 
$10.00 each
Limited quantity of 1,000
Limit of 5 per person
Welcome to Night City, the setting for CD PROJEKT RED's highly anticipate game, Cyberpunk 2077 arriving November 19, 2020. Get the exclusive Night City Enamel Pin before the game hits shelves!
The Dragon Prince: Aaravos Enamel Pin
$10.00 each
Limited quantity of 1,000
Limit of 5 per person
About Author