DARK HORSE BOOKS COLLABORATES WITH IT'S ALIVE! TO REPRINT 'BREATHERS'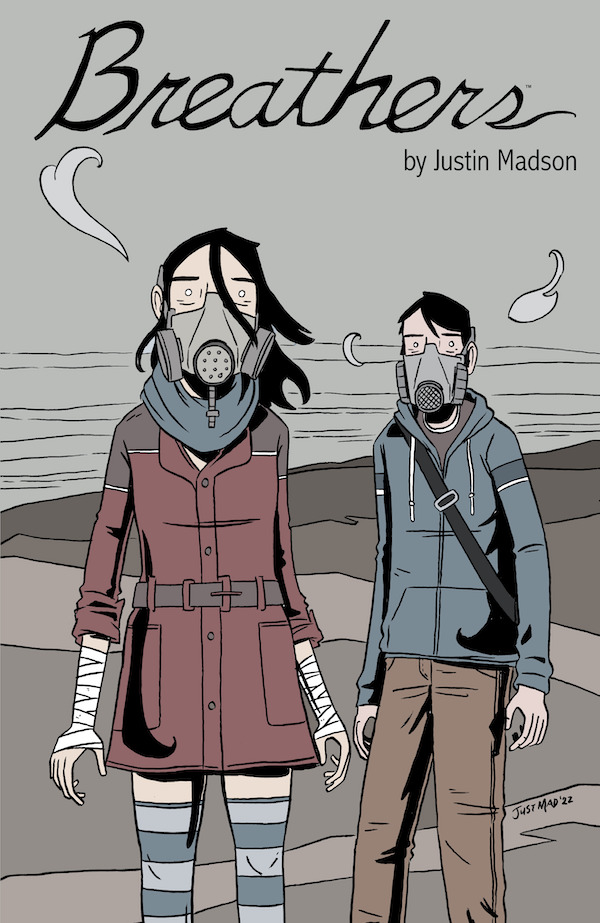 The full series–collected for the first time!
< MILWAUKIE, Ore., (June 14, 2022)— IT'S ALIVE! and Dark Horse Books collaborate once again to collect Breathers, the popular dystopian series where humanity clings to life on a planet without fresh air. Created, written, and illustrated by Justin Madson, the nine-issue series will now be collected for the first time.
Follow the lives of a small cast of survivors as they struggle to keep going in a world where the air is fatal. A detective battles not only the deadly air, but his own demons; a lost pair of siblings question the supposed apocalypse; a mother and daughter fight tooth and nail to stay together; and a salesman peddles breathing masks, trying to do some good to make up for the sins of his past. They are all survivors—they are all Breathers.
On the reprinting of Breathers, Justin Madson said, ""Long before the word "pandemic" became a part of our daily conversation, I started work on Breathers, a story set in a world where the air was deadly to breathe, so everyone had to wear gas masks when they went outside. Wearing these "breathers" was an accepted part of life since, really, there was no other option. It seemed like a bit of a far-fetched idea at the time, but, as recent years have shown, I was not too far off. I am thrilled to be working with IT'S ALIVE! and Dark Horse to bring my dystopian tale, Breathers, to a wider audience."
Breathers will be available in paperback at comic stores February 22, 2023 and in bookstores March 7, 2023. It is available for pre-order on Amazon, Barnes & Noble, and at your local comic shop and bookstore. Breathers will retail for $29.99.
About Author