Featuring An All New Cover by Mike Mignola and Dave Stewart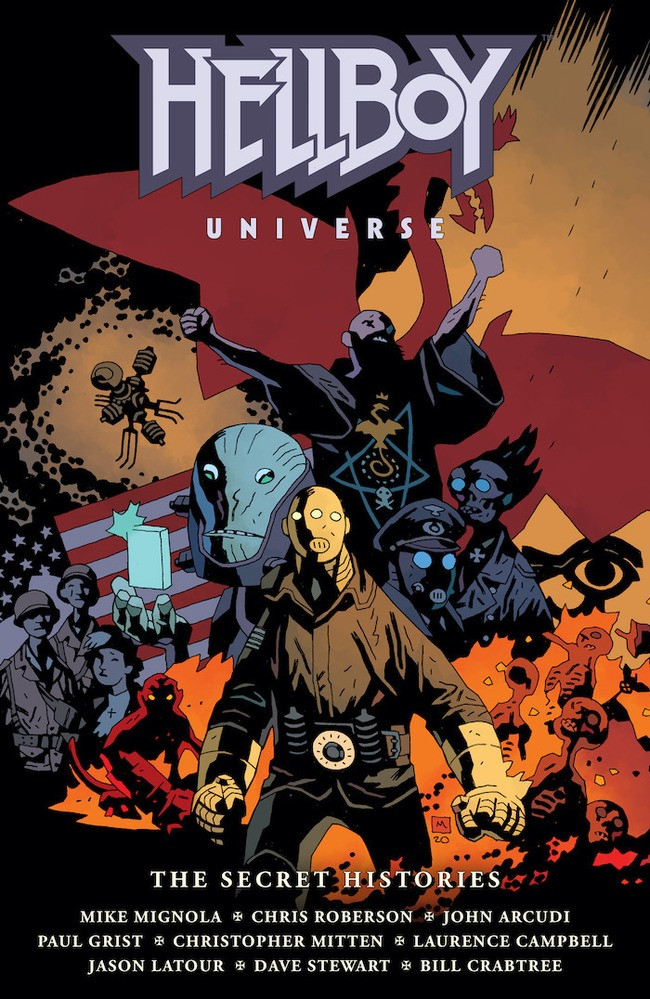 MILWAUKIE, Ore. (November 23, 2020)—Fans of the Hellboy universe know that Rasputin is the man responsible for bringing Hellboy to Earth, but when did the mad monk find his calling to bring about Ragna Rok? Following his iconic appearance in Hellboy: The Conqueror Worm, how did the mysterious Visitor stay hidden on Earth for so long? Where did the legendary Sledgehammer armor really come from? HELLBOY UNIVERSE: THE SECRET HISTORIES collects in hardcover for the first time three acclaimed stories that shed new light on the hidden corners of the Hellboy universe: Rasputin: The Voice of the Dragon, Sledgehammer 44, and The Visitor: How and Why He Stayed.
"We have so many corners of this world that are unexplored in Hellboy's main story," said Hellboy editor Katii O'Brien. "In these volumes, we pull at some of those threads. These aren't just origin stories meant to explain a mystery or fill in a hole, these are rich stories on their own that show how varied and colorful this world is."
Dark Horse Books will release HELLBOY UNIVERSE: THE SECRET HISTORIES in the summer of 2021, featuring an all-new cover by legendary creator Mike Mignola and award-winning colorist Dave Stewart and 420 pages of stories by John Arcudi, Chris Roberson, Laurence Campbell, Christopher Mitten, Dave Stewart, and others.
HELLBOY UNIVERSE: THE SECRET HISTORIES will be available in comic stores on June 2nd, 2021 and in bookstores on June 15th, 2021 for $39.99. The hardcover is available for pre-order now on Amazon, Barnes and Noble, and your local comic shop.
About Author