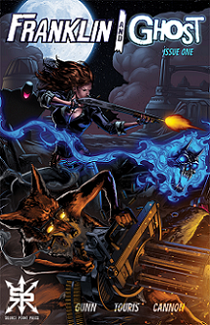 Title: Franklin and Ghost # 1
Publisher: Source Point Press
Written by: Garrett Gunn
Art by: Nic Touris
Lettering by: Rob Cannon
Logo Design by: Joshua Werner
Cover Art by: Caanan White
Cover Colors by: Tommy Shelton
Price: $ 3.99 US
Rating: 4 out of 5 stars
Website: www.sourcepointpress.com
Comments: This issue will grab your attention and hold it. A meteor falls and for two hunters the strange and wondrous begins.  Also for one fox, things have taken a weird turn. This fox knows his abilities. This fox has been changed and he is one tough bad dude that you do not want to mess with just ask the two hillbillies that he was talking to.
The fox now going by Franklin Manoli is so cool in attitude and how he is illustrated. He is joined by a skeleton head. Yes, this comic does keep getting weirder and it is so much fun. The characters are wonderful to see as they interact. They will make you smile.
The fox enters a hunter's bar to have a chat with them. He does get some strange looks as he walks up to the bar. So, of course, a bar fight breaks out. This fox that is more than a fox is one bloodthirsty creature.
Three things show up for Franklin and Ghost and it looks bad than one cute sexy babe with an attitude and a gun shows up.
The third wall is broken here a few times which is always great to see.
The back cover write up explains the parts of the story in the comic does not.
This fox is one fun cool murderous dude.
About Author