First Comics News: Who is Rob Hanes?
Randy Reynaldo: Rob Hanes Adventures features the exploits of a modern-day, globetrotting troubleshooter, modeled after the soldiers of fortune featured in the classic newspaper adventure strips that inspired my love of comics, like Milton Caniff's Terry and the Pirates, Noel Sickles' Scorchy Smith, Roy Crane's Buz Sawyer, and Will Eisner's Spirit. More recent inspirations include Alex Toth's work, particularly Bravo for Adventure, Hergé's Tintin, Jonny Quest, and Howard Chaykin's American Flagg! Indiana Jones is part of this tradition too.
In those days, many of those adventurers were vagabonds, but in today's world you gotta make a living — by trade, Rob is a private detective with worldwide Justice International (JI), a private investigation and security agency. Rob himself comes from an affluent family, though his father is a disgraced former CIA agent who was believed to have been a mole for the Soviet Union–Rob is partly driven by his need to make up for the father's sins.
JI provides intelligence gathering, industrial espionage, and security services for private, corporate and government clients—some call them mercenaries and spies for hire. Unlike the other agents at JI, Rob doesn't come from a military or spy background, which sometimes puts him at odds with his fellow agents. He's not as blindly jingoistic or cynical as the people he works with and has a strong sense of social justice.
When I created this concept and, particularly JI, at first it felt like a fanciful conceit, but as we've seen with shadowy private services like Kroll Associates and the rise of "military contractors" in places like Iraq, which have played a huge role in U.S. military operations overseas, it turns out it's not! Truth really is stranger than fiction.
The series is intended to be grounded in the real world—but at the end of the day, it's primarily a light variety/adventure series that sometimes plays in other genres. Ultimately, the series is just a vehicle for me to tell fun stories.
1st: Do you and Rob Hanes share any characteristics?
Randy: Well, superficially, I'm Asian American and the character is Anglo and blond, so at first glance, no! But I'm sure the character shares some of my values and traits. He probably shares my optimistic outlook of the world, as well as my annoyance at obvious injustices and abuses of power that we see all around us in the world. While I guess the series allows me to highlight and address these problems in a fictional way, Rob gets to do so for real!
1st: What kind of adventures will Rob be having in the near future?
Randy: Funny you should ask! I'm just about to take the series in a new direction that is very much inspired by the current political environment. Starting with issue 19, Justice International gets nationalized or "deputized" by the new administration, essentially becoming a private police force for the new president because he doesn't trust the existing power structures of the government! This forces people in the agency to take sides and Rob gets caught in the middle of that. Highlighting real-world and the current events have always been part of Rob Hanes Adventures and all the stuff going on in the news with the possible tampering of our elections and collusion with overseas powers was story fodder I just couldn't pass up!
With that said, these stories are meant to be entertaining and fun, so while these upcoming stories are clearly inspired by current events, they are still definitely hyper-fictionalized and are in no way intended to portray actual people or events! They were just a jumping off point for me to take the series in a fresh new direction. One of my inspirations, frankly, was one of my favorite series from the 1980s, Howard Chaykin's American Flagg, a sci-fi satire that I have found prescient, comforting and relevant in the current political environment.
And while Rob Hanes Adventures is primarily an action-adventure comic book, if you look at my body of work, I've explored different genres in the series. For example, the issue that I'm about to release, #18, takes place at a world-famous comics convention that many people may recognize, though I don't name it. It's a murder-mystery that gave me an opportunity to have some fun within comics and geek fandom.
Past issues have featured a baseball sports story (#10) that was highlighted in Tony Isabella's book, 1000 Comic Books You Must Read; a classic drawing room murder mystery (#7); and even a romance-superhero mashup (#16)!
In this way, the series shares a lot with Will Eisner's Spirit, where the character is sometimes just a vehicle to tell a wide variety of stories.
1st: Who does Rob get to work with?
Randy: I have built a recurring cast of supporting characters over the years. First among them is his partner, an old hand named Abner McKenna, who acts as Rob's mother hen. Then there is the director of Justice International, Gabriel Evans Girard, who is gruff on the outside but works hard to protect the agents and integrity of the agency. He is also Rob's champion, having brought him in because he was friends with Rob's father, who was a U.S. intelligence agent many suspect was a Soviet spy codenamed Glowworm during the Cold War. Given the changes in the world, Girard thought the agency needed new blood and believes Rob represents the future of the agency.
Many other recurring characters are spies from other agencies or people he has met on his adventures, such as Dennis Winger and Jarret Cox, Rob's CIA handlers who are a classic good cop/bad cop team (Cox hates Rob); Isabelle Corbeil, an intelligence agent from the European Union; Irina Taushinova, an intelligence agent from Russia who now works for Justice International Moscow; Tiffany Lance, a journalist; Caroline Wilde, a former spoiled heiress who is now an old flame of Rob's now married to one of Rob's biggest antagonists; Katya Vilnius, a physician who works for the U.N.; an English heiress named Lorelei Thornfield and her two aunts, the two Lady Agathas; and more!
1st: What kinds of villains will appear in the "Rob Hanes Adventures"?
Randy: There are always new villains appearing in the series – the latest is Rudolf Prufrock, chief security officer for the new President, whose agenda is still a bit murky, but who we'll learn more of in Rob Hanes Adventures #19 – but he is featured in a backup story in issue 18 that's a teaser for issue 19.
The top recurring villains in the series have been Nicolai Korda, an international crime lord, who sees Rob as a constant thorn in his side; Anthony Cromwell, a slimeball who is always looking for a quick buck and a way to power, who also happens to be married to Rob's old flame, Caroline Wilde; and General Amra, a Middle East strongman.
Wo Chun Pei is another crime lord Rob has encountered on cases, who happens to be a rival to Korda; Rob was even once taken prisoner by a certain well known Asian communist dictator who leads one of the most secretive regimes in the world. A variety of small, eccentric villains have always been part of the series as well, such as a smuggler warlord named Napoleon Pope, international art thief Suzette French, international hitman Jacoby, Italian left-wing terrorist Salvatore Ossi, and former CIA agent turned hired gun, Clemson.
1st: How does Rob Hanes compare to other spies such as James Bond, Matt Helm or John Steed?
Randy: Rob is a lot younger and less established than these icons—he's closer to Indiana Jones, kind of fallible and "makes it up as he goes along," getting by on smarts, pluck and connections. He's nowhere near as well trained with weapons or his fists – nor as worldly – but he can hold his own. A big part of the series is whether someone in his line of work can maintain their principles.
1st: Why did Rob Hanes visit a Comic Con in "Rob Hanes Adventures # 18"?
Randy: In the story, "Death at Comicon," Rob is hired to protect a rare comic-book back issue up for auction at the show and when one of the artists turns up dead during the convention, Rob is hired to investigate.
The story is in line with the kind of variety and light-heartedness I periodically try to inject into the series, as I mentioned earlier, which you will see in many of my past stories. I usually debut a new issue of the series at the San Diego Comic-Con, so it was always a goal to set a story there.
1st: Where would you like Rob Hanes to go that he has not?
Randy: I haven't done a full-length story set in South America yet. I also would love to send him into space, but I want to do it in a way that it doesn't come off as a gimmick or "jumping the shark" moment!
1st: Do you have any ideas for other comic books?
Randy: I have thought about it periodically, but I'm really focused on Rob Hanes Adventures because of the variety of storylines I get to tell within the series. If I was going to do something else, it would be very different, either a space opera or a fantasy series. But otherwise, I'm still satisfied exploring what I can do with Rob Hanes Adventures.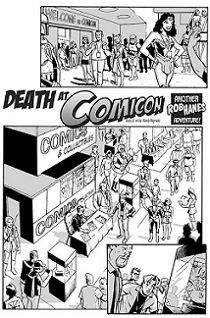 1st: How was WCG Comics formed?
Randy: Talk about a loaded question! The first comics I did was a Sgt. Rock knockoff I drew in junior high school called Sgt. Hanes and Hell Platoon. The name of the company was the War Comics Group – or WCG! This was the late 1970s.
When I began self-publishing, using WCG Comics as my imprint seemed a natural—though I later realized that having a name that started with a letter deep in the alphabet was a bit of a drawback! But officially, as a legal business name, WCG Comics began in 1990.
1st: Where is WCG Comics headed in the future?
Randy: Given the size of my back catalog now, I'm trying to expand the availability of the series to other platforms–I've had a lot of requests for this over the years and one of the initial challenges was that my earliest work was done entirely "old school" and not in a digital format. I finally completed the conversion process a few years ago, which allowed my work to be made available on platforms like Comixology and Hoopla.
I also am finally getting around to collecting the series in trade paperback–Rob Hanes Adventures, Vol. 1 is also going to be released at the San Diego Comic-Con, which compiles the first four issues of the series. I plan to collect the series in 4-issue increments. I already have two earlier trade paperbacks in my catalog–the Rob Hanes Archives, and Rob Hanes Adventures, Vol. 0, that collect even earlier material, dating back to when the series was a zine and an initial 4-issue run under the title, Adventure Strip Digest. (Fun fact–comics writer Kurt Busiek designed the Adventure Strip Digest logo–he loved the series but thought the logo left much to be desired and whipped it up for me!)
In 2014, I celebrated 20+ years of publishing, so I guess you can say I'm here for the long haul!
1st: Why do you like the "Longest Day" film?
Randy: As my love of Sgt. Rock and war comics attests, when I was younger, I enjoyed World War II films and history. The Longest Day was a childhood favorite, along with classics like To Hell and Back, the Great Escape, the Dirty Dozen, the Sands of Iwo Jima, the Devil's Brigade, Anzio, and Where Eagles Dare. You have to remember that this was back in the day before cable, VCR or DVD (let alone streaming services) so when these movies came on TV, it was an event for my brother and me! I like history, including military and World War II history, and the Longest Day is particularly rooted in telling the experiences of those who fought on D-Day. I'm fascinated by the whole "Band of Brothers" thing (and, yes, I greatly enjoyed that mini-series as well).
I'm sure another reason I enjoyed the Longest Day was the ensemble nature of the film, with its diverse cast of stars and character actors like John Wayne, Roddy McDowell, Sean Connery, Red Buttons, Richard Beymer, Richard Burton, Robert Mitchum, Eddie Albert, and Henry Fonda. Kinda like the great crossovers you'd see in comics superheroes and between Marvel and DC back in the day!
1st: What is a normal day in your life like?
Randy: Well, my comics work doesn't quite pay all the bills, so I have a full-time 9-5 job, and two teenaged children with active social and school calendars. But I have my own studio loft, and you can usually find me there working after dinner through midnight and the early morning hours, and on the weekends.I'm a member of a local cartoonists group that meets monthly, so I've had a chance to meet and become acquainted with many of my peers and fellow cartoonists who live in Southern California, who all appreciate comics history and great cartoonists as much as they enjoy drawing them!
1st: What would you like to say to your readers?
Randy: I have the most amazing fans–many from around the world–who order new issues as soon as they become available and make a point of stopping by my booth at the San Diego Comic-Con every year! I want to thank them for their support over the years and their patience given that I come out about annually. But you can see that I've built a large back catalog and I hope people feel they have been rewarded with a deep back story and a variety of fun adventure stories. What helps, I think, is that ever story is stand-alone and self-contained, so I never leave anyone hanging in the middle of the story.
When I first started, one reason I built a good fan base is because there were so few people doing classic adventure comics. I think that's changed a bit in recent years, there's a lot more variety and diversity, but I'm grateful that I've been able to continue the tradition and doing the kinds of comics I wished were around when I was growing up.
About Author